I received this book for free from NetGalley in exchange for an honest review. This does not affect my opinion of the book or the content of my review.
Crewel

by Gennifer Albin
Series: Crewel World #1
Published by Farrar, Straus, and Giroux for Young Readers on October 16th 2012
Pages: 368
Genres: Dystopian, Young Adult
Format: eARC
Source: NetGalley
Amazon・ Good Books・Book Depository
Goodreads

Incapable. Awkward. Artless.
That's what the other girls whisper behind her back. But sixteen-year-old Adelice Lewys has a secret: She wants to fail.

Gifted with the ability to weave time with matter, she's exactly what the Guild is looking for, and in the world of Arras, being chosen to work the looms is everything a girl could want. It means privilege, eternal beauty, and being something other than a secretary. It also means the power to manipulate the very fabric of reality. But if controlling what people eat, where they live, and how many children they have is the price of having it all, Adelice isn't interested.

Not that her feelings matter, because she slipped and used her hidden talent for a moment. Now she has one hour to eat her mom's overcooked pot roast. One hour to listen to her sister's academy gossip and laugh at her dad's jokes. One hour to pretend everything's okay. And one hour to escape.

Because tonight, they'll come for her.
Without a doubt Crewel is the most creative novel I've read so far this year. When I first read the blurb I thought, "A dystopian society where people are weaving time?! YES! Gimme! Tell me more!" The dystopian genre has really taken off lately and sometimes it can be hard to find a novel that separates itself from the pack. Crewel does just that and does it well. It completely stands out with its complex concept, feisty heroine and a plot that kept me guessing over and over. Whoa. Can I pull out the winning gif?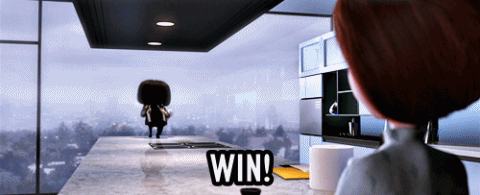 The beginning of Crewel reminded me a lot of Matched by Ally Condie. Now before you start cringing and exiting out of this browsing window, let me assure you that it's not what you think. The set up is only similar because both societies involved tight monitoring of its citizens. This means they are given a small pool of marriage options, limitations on the amount of children they can have, restricted access to other parts of the society, jobs chosen for them, etc. That's where our similarities end and where the awesome begins.
Adelice, our main character, has the ability to weave time on an actual loom. It is a highly coveted ability in her society because it pretty much guarantees a woman a higher social status and a comfortable lifestyle without needing a husband. I'll admit I was worried about how Albin would pull off a society that was generally misogynistic. There are really only two outcomes for that: fail really hard or win. Even though woman were considered second-rate in this world (needing a husband, only having secretarial type jobs, no real positions of power, can't travel without a man, etc.) and were held to unfair higher standards than their male counter parts (Spinters had to remain "pure", women were expected to always appear a certain way in public: Make-up, dressed up and heels, act like a "lady") I never felt that this was ever accepted by the main character or by other secondary characters. And while I contemplated how I could ever survive in a society that forced me to wear heels ALL THE TIME (I freakin' live in my Converses, dude), I realized that these ideals were being challenged especially through Adelice's character.  She was a strong, formidable heroine who did not back down or allow anyone to push her around. She took action at her own personal risk. She was bold, gutsy and witty. I was like, "YES! You tell that man, girl. Give 'em a piece of your mind!"
As for Arras, this is yet again another book that makes talking about the world building difficult, mostly due to how Albin tells the story. She doesn't lay out the world building in the beginning over the first few chapters like most dystopians. In fact, for the first half of the book I still had quite a few questions on how the society in Crewel actually functioned. But the reader is given pieces bit by bit. As I learned more about the world, the plot continued to open up along the way. At first I wasn't sure how I felt about that style because I like my world building straight up, but it grew on me and by the end of the book I had an appreciation for how it was told.
One thing I have to mention was the plot twist. This is again why I'm reminded of Matched because they were forced to either marry or stay single. Anyone see a problem with that? I almost thought Albin was going to go down that same tired road Condie did with an unrealistic world. But then Albin threw in that plot twist when I was least expecting it. She must have known I was questioning the validity of a society that didn't even mention gay people. Then BAM! The plot twist came out of nowhere and backhanded me. All I could do is sit back, ice my face and nod my head in silent approval.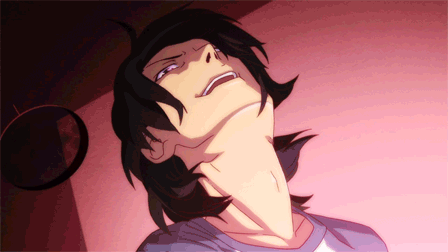 Oh, Albin, I totes see what you did there.
"But, Steph!" you say. "Why aren't you giving Crewel 5 stars? This book sounds amazeballs!"  Why, yes it was amazing, but I still had a few questions (if the neighborhoods are segregated by gender of the children, what happens if a couple has a boy and a girl?) not to mention I didn't fall in love with the *gasp* triangle of love. That really doesn't shock me because I'm usually not a fan of love triangles in the first place. I could probably count on one hand how many I actually did like. Crewel's love triangle didn't bother me to the point of "headdesk-ation", but I did feel that the relationships were underdeveloped and generally unnecessary. To me it felt like you could easily take out the romance of at least one beau (preferably Jost) and the story wouldn't suffer one bit. But the story is not yet over. Who knows what could happen!
Overall, I really like Crewel and think dystopian fans who are looking for something completely different, will eat this up. I don't usually say this that often, but Crewel is definitely a debut that lives up to the hype and will have readers hungering for more. I know I am.
ARC was provided by the publisher for review. Thank you, Macmillan! 
*Want a chance to win this ARC? Check out Cuddlebuggery's Anniversary Giveaway and enter to win!