"Little Author, little Author let me in."
"Not by the feathers of my quilly pen, pen!"
"Then, I'll huff and I'll puff and I'll blooOOOOoow your book in!"
These days it seems like there's a new version of the Big Bad Wolf roaming the inter webs, specifically in the book blogging community. I like to call it the Big Bad Reviewer. Dun, dun, dun, duuuuuunnnnn! Did you cue the Michael Myers music yet?
Don't tell me you don't know the story. You know. Big Bad Reviewer reviews a book in an, ahem, snarkalicous way. He/she pours over that review, knowing that Little Author has to eventually see it. You see, the Big Bad Reviewer has nothing else to do with his/her time but antagonize Little Authors into a flame war on the internet. One day, Little Author, who just happens to be browsing his/her reviews, runs across the review, which may or may not include comments from agreeing parties. Little Author is shocked and horrified that someone could have so many strong negative opinions of their book! How dare that Big Bad Reviewer not understand Little Author's brilliance and have the nerve to review their baby with the assistance of animated images! Little Author continues to follow the commentary and stews over the review until he/she just can't take it anymore. He/she knows with every fiber of their being that the Big Bad Reviewer is laughing at him/her behind his computer screen. Then the inevitable happens. Little Author schemes and does one of the following:
Comments on the review and gives that Big Bad Reviewer a piece of his/her mind
Links to the review on Twitter with a choice words about the Big Bad Reviewer
Writes a blog post linking to the review
Organizes a campaign to down vote Big Bad Reviewer's review
After all, vengeance is sweet and Little Author shall have his/hers! That Big Bad Reviewer had it coming anyway spewing volatile venom all over the blogosphere. Little Author won't take this sitting down. He/she will have the last laugh!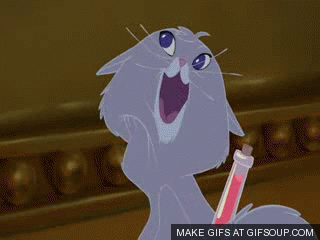 Or so they think…
Next thing Little Author knows, everyone is talking about how big of a jackass he/she is in losing it over one little review. Bloggers have blogged about Little Author's WTFery, people have unfollowed him/her on Twitter and that damn review is now one of the highest voted reviews on GoodReads! Other readers are adding their baby to their "When-Hell-Freezes-Over" shelf. However, none of this is the Little Author's fault. That damn Big Bad Reviewer orchestrated the entire thing and sought out to ruin Little Author's career. Everyone knows Little Author would've gotten away with it if it weren't for those pesky kids! >_>
Yes, the above scenario completely confirms what some authors have been complaining about. Reviewers are totally out to get them. For whatever reason they just aren't happy with their lives and have the audacity to pay money for a book, spend hours reading said book and then even more time chatting about that very same book. So very evil.
A while back I wrote a post on GoodReads myths because I grow tired of seeing a lot of misconceptions about the site flying around. Particularly that there is a gang of Big Bad Reviewers trolling the site looking to devour Little Authors left and right. And lately I hear that so much that I sometimes feel *thisclose* to gathering my closest reviewing buddies, slapping tattoos on their arms and metaphorically strutting around the web like this:
I'm the one on the left. Do you feel the fear bubbling in your chest yet? 
But usually it just spurs exactly two reactions from me:
I Fall Out Laughing
I just fall the hell out. I mean, when you really sit and think about it the most anyone can do is unfollow you on twitter and shelve you on the "naughty list." Neither of those things are considered harassing or going after anyone. And why should it? If I'm a troll then, got dammit, so is Santa Clause. Even Santa keeps a naughty list and I don't see anyone accusing him of being a meanie.
The idea of a Big Bad Reviewer out to get the Little Author is ludicrous. As far as I'm concerned, the only crime usually committed by the Big Bad Reviewer is posting a rather harsh, negative review. And sometimes it's not even harsh at all. But the thing that always gets me is that it wouldn't have ever been that big of a deal if only Little Author didn't make it hot. Think about it for a second. If Little Author had never blogged, tweeted, organized or commented, the entire blogging/reading community would probably never have read that review, never have even heard of that reviewer. What a genius idea! Draw attention to the very thing you don't want anyone to see! Brilliant. Give that guy a Klondike bar. -_-
Frustration
I feel frustrated because some people can't seem to understand what a social networking site is. So I feel compelled to break this shit down real slow. Currently, GoodReads has over 9 million users. That's a lot of people. I like to think of GoodReads as Facebook for the bookish type. Now, what do we know about Facebook? We know that people will vary in age, likes & dislikes and personalities. You have people interacting with their friends everyday talking about various things. You also have businesses that advertise and hold fan pages to interact with their customers.
Let's say a person adds a status update saying: "Yooooo! I just got back from Best Buy and I think dat store SUCKS ASS!!!1!!" Do you think the rep that manages the Best Buy fan page is going to then go one that person's status and chew them a new one? NO. It would be HIGHLY unprofessional, though it would certainly be in their right to do so. If you don't think that regular FB user's friends and family wouldn't come out and defend him tooth and nail, you are living in a fantasy.
GoodReads is the same way. It's simply book social networking sites full of regular wolves people not professionals, where most do not receive ARCs or anything like
that. The site was made for readers to hang out and discuss books however they wanted, which is why the staff is very hands off with policing its members. The site does not exist to stroke an author's ego. Yes, authors and publishers are there, but they have a special interest–selling books. Do they also come to hang out with other readers? Sure, I don't doubt it at all. But if you are selling a product a certain level of professionalism is expected. You don't get to throw shit at your customers and expect it to be justified. You don't get to be a total jackass in public and still expect people to want to support you financially by buying your book the next day. You just… don't, okay?
Both Stephenie Meyer and J.K. Rowling have had some of the harshest criticisms in their careers. From nasty reviews to book burnings. Yet, you don't see them in the media going after reviewers. Why? Because they are classy ladies and they exercise the "If it don't apply, let it fly" rule. I have exactly FIVE Twilight books and I have written three very negative reviews. That means she's received at least $50 from me. Who's the real winner here? Meyer is rolling in the green stuff from her fans and her haters.
So, yeah, I write negative reviews. Sometimes they're harsh, sometimes they're nice. It really depends on the book and how pissed off I was after finishing it. I write my reviews like I'm chatting with my best friend because I'm not reviewing for Little Author's benefit. I'm not a beta reader and have never felt obligated to hold anyone's hand while reviewing their novel. And I'm not going to sit and apologize for any of that. So, I guess that makes me one of those feared Big Bad Reviewers. But I struggle to understand why there is the notion of authors cowering in fear. Why in the world would someone give me, a random reviewer/blogger on the internet, that much power over their person? In the grand scheme of things many author's readers may never stumble upon my review. Why does that one review matter?
So I've resolved myself to something. The next time someone "cries wolf" perhaps my reply should be a little more appropriate: