Insurgent

by Veronica Roth
Series: Divergent #2
Published by HarperTeen on May 1st 2012
Pages: 525
Genres: Dystopian, Young Adult
Format: Hardcover
Source: Purchased
Amazon・ Good Books・Book Depository
Goodreads

One choice can transform you—or it can destroy you. But every choice has consequences, and as unrest surges in the factions all around her, Tris Prior must continue trying to save those she loves—and herself—while grappling with haunting questions of grief and forgiveness, identity and loyalty, politics and love.

Tris's initiation day should have been marked by celebration and victory with her chosen faction; instead, the day ended with unspeakable horrors. War now looms as conflict between the factions and their ideologies grows. And in times of war, sides must be chosen, secrets will emerge, and choices will become even more irrevocable—and even more powerful. Transformed by her own decisions but also by haunting grief and guilt, radical new discoveries, and shifting relationships, Tris must fully embrace her Divergence, even if she does not know what she may lose by doing so.
What a shame. The most anticipated book of 2012 is my most disappointing read so far. After all the positive reviews I read, I knew for sure I'd love it. Unfortunately, it didn't work out that way. I was conflicted on whether to give this book one or two stars. In the end, Insurgent's saving grace is that it simply doesn't belong with some of my other one starred books. So, I feel I must warn whoever stumbles across this review: If this is one of your favorite series and you love it with the burning passion of a supernova, this review might have the potential to piss you off. It might be best for both you and I if you just hit the back button now before things get going. Go on. Spock and I will wait.
*whistles*
Oh, you're staying, huh? Well, strap yourself in because I have a feeling it might just be one of those reviews…
Spock tells me this review must contain mild spoilers in order to logically explain this illogical novel. Sorry, kids. Spock's call.
The first big negative right off the bat was that Insurgent picks up directly after Divergent left off. There is virtually no recap to the story or characters and if you read the book a year ago, well, you may be screwed. But thankfully, Roth wrote up a lovely little cheat sheet for just this purpose. Yay! However, the problem doesn't just lie with remembering names. It lies with the connection the reader may or may not have had with the characters in Divergent, which was now non-existent since I could barely remember who was who. What's that you say? So and so just got shot in the head? I'm sorry, I can't find a single fuck to give. Then, we are introduced to even more characters. So, not only do I have to attempt to remember the old characters, but I have to keep track of these newbies too? That's just way too much work. Obviously, this isn't really Insurgent's fault, but I thought it would helpful to point this out.
The Plot:
What happened here? What happened to the action packed dystopian series I was introduced to in Divergent? Where the hell was Tris and why was Bella playing her role? Why did Four suddenly update his Facebook status to Douche Bag? Who's idea was it to turn Insurgent into a Dystopian Romance? One thing I loved about Divergent was that the romance took a back seat to the story and action. But in Insurgent the action is scattered with a heavier focus on Tris and Four's relationship. Look, that is not what I signed up for. I really don't care if Four loves Tris or if they'll end up riding a unicorn that poops rainbows as they ride off into the sunset. Whatever, whatever, whatever.
So, the Erudite are trying to take over their world by creating a new serum for those that are Divergent while the Factionless plan a rebellion. But all that usually happens in the background with occasional mention to keep the reader up to date. Most of the novel we are stuck in Tris' head as she goes into angst mode over Four, her parents and Will. It was so boring I felt like I was stuck in a throwback episode of As the World Turns. On repeat. Save me. But wait! We have a random plot twist at the end right before the battle is about to go down. Marcus (Four's abusive father) decides to enlist Tris to help him retrieve information stolen from Abnegation. He tells her it's super secret and that he can't tell her what it is because it's something you have to see, that she'll just have to trust him. Doing so would betray Four. She agrees.
Wait. Pause.
Tris hates Marcus. Tris loves Four. Tris doesn't know what information they would be retrieving. She also doesn't know if Marcus is telling her the truth. She has absolutely no reason to believe him. No real evidence to back up his claim. She agrees. Without much thought. Tris is supposed to have an aptitude for Erudite, right? She's supposed to be logical, RIGHT?!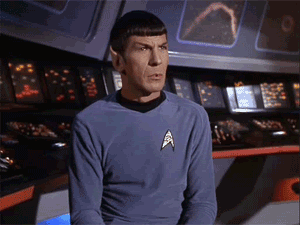 Tris, pack your bags. I think Spock has just voted you off the island.
That makes no sense! And then when I found out the super big secret, guess what? He could have easily told her! I smell and easy plot cop-out, folks. The secret is kept long enough from the reader just so it can push you off the cliff on the last page.
World Building:
In Divergent I let a lot slide and roll off me because I was entertained throughout the entire book. I'm known to do that with a lot of books like Wither and Across the Universe, for example. I could not do it with Insurgent. You see, I have the attention span of a fruit fly. If I'm not fully engaged in the book, I'm going to notice things. Things I probably wouldn't care too much about if I were enjoying myself. Like how the Erudite wear glasses just because they're smart. Or how even though Tris is emotionally unbalanced 16-year-old, everyone still looks to her to "analyze the situation." Or even how impossible I find these factions. How is it that you can put all of these traits into neat little boxes and ask a person to choose one over the others? This is the same problem I had with The Hunt. In both novels the author tries to pitch an idea of human behavior completely different from what reality is, but you can clearly see the flaws with it. However, the main character fully believes in that world and way of thinking. They try to rationalize it, convince you of it. Yes, I realize it's a Dystopian novel, but this is a hard concept to sell because it makes it difficult for me to sympathize with the main character, their conflicted feelings and understand their world. Believability is key for me and I have a hard time believing this world. Tris frequently switches back and forth between her Dauntless, Erudite and Abnegation sides. Other characters comment on her embracing one trait depending on what the situation calls for it. But this doesn't work for me. Real talk, you can't just put logical thinking back in the toy chest when you decide you don't want to play with it anymore. It doesn't work like that. At least… I don't think so. Spock?
I'm getting no-ish vibes.
Tris:
This series gets a lot of comparisons to The Hunger Games and in a way I can see why. You have your young girl who, one way or another, plays an important part in bringing forth change to her society. And if I really had to compare the two, I'd say that Insurgent is like Mockingjay. Tris is depressed, struggling to hold it together and fight in the war. The difference comes into play when Tris borderline gives up, while Katniss kicked ass until the very end. I'm not saying Tris didn't have the right to be depressed because I do believe she did. But it was really over done for me. I felt like I was drowning in her angst. This book is over 500 pages long and most of the action doesn't even show up to the party until the last 30 pages! So what was Tris doing for the other 500 pages? Not a damn thing. No, scratch that. Spock tells me that is inaccurate. Tris was in fact doing something. She was off being selfless, trying to get herself killed so that no one else would die. Bella is that you? I didn't know you did Dystopias now! That irritated me to no end. At one point she turns herself into the Erudite because they threatened to kill off people until Divergent started surrendering. So, of course, Tris thinks it has to be her and sneaks off to give herself up before the Dauntless can form a plan. Now, let's think about this logically. Tris knows the Erudite want to experiment on her for a Divergent-proof serum. Which means more people would be enslaved and/or killed because of her turning herself in. *facepalm* Then she almost dies, but it was too late because I had run out of fucks by then! So I had to shake Spock down for some.
What do you mean you're out of fucks?! One of us has to care if Tris lives or dies!
The Ending:
Okay, lots of spoilers here, folks. Spoilers all around from this point on.
I didn't like the ending. I felt cheated because I had hung on for the ending. Everyone said how it made up for the rest of the book and what not, but here's the thing: The ending couldn't make up for all the angst-filled fluff the rest of the book was stuffed with. I didn't feel the anticipation throughout the novel and I hate to admit that I was really tempted to skim. The villan was killed really fast without much of a fight. I always hate when that happens. The villan has been giving the characters hell all throughout the story and by the time their number is up, they beg for their life and die by a simple stab wound?
"Yes, if you kill me you'll never find the information!"
*stabby stab*
>insert blood and stuff<
"UGH! I'M MELTING!"
*dies*
Still no fucks I see. That's cold, bro.
And the big secret wasn't anything you couldn't have guessed from Divergent. It's revealed that the world is in chaos outside of the fence. Murders, destruction, ect. The weird thing is that I actually forgot about their society being enclosed in the fence until it was brought up near the end. It totally slipped my mind. But, I digress. The entire point of their society was to be a fresh start to the world. Somehow by boxing people in these Factions and waiting for the Divergent to emerge that equates to saving humanity. I'm not exactly sure how that works since the book just ends with that revelation and the Acknowledgements rolled. But I feel like Roth wrote herself all the way to a deserted island, sent up her S.O.S. signal and that cliffhanger fell right out of the sky to the rescue. *sigh* I really hate cliffhangers. It was one of the things that I liked about Divergent. For the most part things were tied up, but with Insurgent? It's quite the mess we'll be walking into in book three.
Will I read the next book?  Yes, because I've come this far and I'm hoping I will enjoy book three as much as I enjoyed Divergent. I think Insurgent suffers from "Second Book Syndrome" and the infamous "Hype Train," may it die in a fire (the Hype Train, not the book). But ultimately, I'm interested in how Roth will explain away everything. Maybe then this whole series will make perfect logical sense to me. Until then, drink time, Spock?