I received this book for free from NetGalley in exchange for an honest review. This does not affect my opinion of the book or the content of my review.
Cinder

by Marissa Meyer
Series: Lunar Chronicles #1
Published by Feiwel and Friends on January 3rd 2012
Pages: 387
Genres: Fantasy, Sci-Fi, Young Adult
Format: eARC
Source: NetGalley
Amazon・ Good Books・Book Depository
Goodreads

Humans and androids crowd the raucous streets of New Beijing. A deadly plague ravages the population. From space, a ruthless lunar people watch, waiting to make their move. No one knows that Earth's fate hinges on one girl.

Cinder, a gifted mechanic, is a cyborg. She's a second-class citizen with a mysterious past, reviled by her stepmother and blamed for her stepsister's illness. But when her life becomes intertwined with the handsome Prince Kai's, she suddenly finds herself at the center of an intergalactic struggle, and a forbidden attraction. Caught between duty and freedom, loyalty and betrayal, she must uncover secrets about her past in order to protect her world's future.
Let me go ahead and get this out of the way. I loved this book. Why in the world did I procrastinate with reading it? I've had Cinder sitting on my Kindle for a few months now and I continued to put it off over and over again. What a HUGE mistake! I even had the nerve to go into my local bookstore twice, pick Cinder up, and put it right back down. But all that doesn't really matter now because I've remedied the problem and absolutely fallen in love with this wonderful story.
When I first heard of Cinder before it's release, it was gaining quite a bit of buzz known for the retelling of Cinderella. Marissa Meyer, my hat's off to you because a cyborg Cinderella in New Beijing, China? Badass. But then shortly before I read it, another blogger informed me that not only is it a Cinderella retelling, but also had Sailor Moon elements. OMG… someone had answered my prayers!  I don't think you can understand my excitement for that.
Sailor Moon was my all-time favorite TV show and manga as a child. Reading Cinder reminded me of a simpler time before responsibilities, when the biggest thing I had to worry about was setting up the VCR (yes, a throwback!) every day because at 4pm, right before Dragon Ball Z, Sailor Moon would come on. If I were to miss one episode, I would cry my little eyes out because I just had to know what happened next to Serena! I have seen every episode including the fifth season that didn't air in America. I've even seen the live action series in all Japanese. And for those that watch subtitled Japanese shows, you know that there comes a time in your marathon watching where you stop reading the subtitles and start thinking Japanese in your sleep. Yes, I am super fangirling and not ashamed one bit! So I think it goes without saying that the reasons for me loving Cinder so much, aside from being blasted by a rainbow of awesome with its creative premise, is that it has a lot to do with sentimental memories. I tell you this so you can understand one big thing: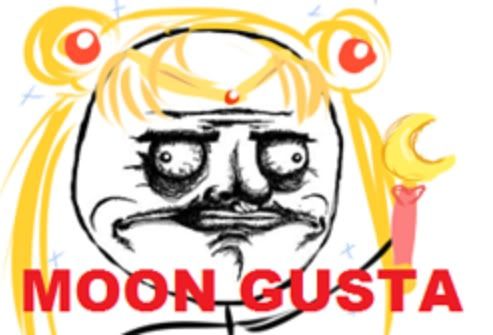 I wasn't sure about Cinder at first. As soon as the book started I noticed on every obvious downfall: Predictability. Seriously, the plot twist ran up to me and sucker punched me in the face at only 10% in. This concerned me, but it quickly became a non-issue as I continued to read. Why? Because the story was interesting. It was engaging. It was just plain old fun! And I haven't had this much fun reading a book in a while.
The plot was brilliantly done. Cinder is a mechanic, under appreciated by her mother and one of her step-sisters. The other step-sister adores her. As a cyborg she doesn't have the same rights as a normal person and her step-mother goes out of her way to remind Cinder this whenever she can. One day Prince Kai (*swoon*) requests her services to fix his android. And in true fairy tale fashion he begins to fall for her not knowing she is a cyborg. But this isn't just a love story. Oh no! The world has been suffering from a deadly disease that kills in a matter of days and it starts to become painfully obvious that Earth's only hope for a cure depends on an alliance with the evil Lunar Queen. And as you may have guessed it, she has plans for Earth. Dun, dun, duuuunnnnnn!
I loved all the characters in Cinder, especially the heroine. Cinder was independent, feisty, and relatable. She didn't always make the right decision, but this is a heroine that learns from her mistakes. And Tuxedo Mask Prince Kai? I loved him.
Ah, the memories!
The romance was so sweet. At first Cinder is wary of the Prince's advances because she is cyborg and doesn't want him to find out, but she can't help but develop feelings for him along the way. Basically what I'm saying here is that there's no insta-love. And you know how much I hate insta-love!
Oh, and that ending! Marissa Meyer, how could you do that to my little heart? I need to know what happens now! You took two of my favorite stories and twisted them into this big ball of badass awesomeness and now I'm expected to wait until next year for book two?! And just look that the character line-up for the next books in the series: Scarlet, Cress and Winter. Little Red Riding Hood, Rapunzel and Snow White?!  I am so there. Just so we are clear, I'm not above stalking.