I received this book for free from Publisher in exchange for an honest review. This does not affect my opinion of the book or the content of my review.
The Oversight

by Charlie Fletcher
Series: Oversight Trilogy #1
Published by Orbit Books on May 6th 2014
Pages: 464
Genres: Adult, Historical Fantasy
Format: ARC
Source: Publisher
Amazon・ Good Books・Book Depository
Goodreads

Only five still guard the borders between the worlds.
Only five hold back what waits on the other side.

Once the Oversight, the secret society that policed the lines between the mundane and the magic, counted hundreds of brave souls among its members. Now their numbers can be counted on a single hand.

When a vagabond brings a screaming girl to the Oversight's London headquarters, it seems their hopes for a new recruit will be fulfilled - but the girl is a trap.

As the borders between this world and the next begin to break down, murders erupt across the city, the Oversight are torn viciously apart, and their enemies close in for the final blow.

This gothic fantasy from Charlie Fletcher (the Stoneheart trilogy) spins a tale of witch-hunters, supra-naturalists, mirror-walkers and magicians. Meet the Oversight, and remember: when they fall, so do we all.
Whaaaaaaaaaat just happened? What is this book? It came out of nowhere and my head is still spinning.
The Oversight features elegant prose and the kind deliciously dark and ominous atmosphere that reminds me vaguely of Neil Gaiman. The book drops you into the shadowy supranatural underside of somewhere around turn of the 20th century London (no exact date given, unless I missed something, which I will allow for, there was a lot going on). The world-building is quite complicated, there's a rich history and lore combined with a sprawling cast of characters who all have their own motives and (often opposing) agendas.

(A startlingly accurate representation of me when I realized what I was in for.)
I was incredibly impressed by the pace and skill with which Charlie Fletcher set the stage. There was a lot of info to be conveyed and processed but I never once felt dumped on. Quite the contrary actually, Fletcher employs that unfolding technique that gives away nothing more than the reader absolutely needs to follow along, leaving everything else shrouded in mystery to be revealed when the time comes. It requires a little bit of patience, but is completely worth it in the end.
Though it's hard to pinpoint any one character as the main character, the story predominantly hinges around the circumstances of Lucy, an orphan girl with large holes in her memory. Events conspire to land her in the care of the Last Hand, the last branch of an organization of supranatural law enforcement known as the Oversight. The hand is made up of five of some of the most smoothly capable BAMFs I've ever come across.
One of my favorite parts is how real the members of the Hand are. While they are legendary badasses, they all have moments weakness where all seems lost, but like the admirable superheroes they are, they get through it because they've got important shit to take care of and if they don't take care of it, everything goes to hell in a handbasket. Make no mistake folks, this book is dark and circumstances are grim, the Oversight are the only people standing between humanity and the things that go bump in the night and there are some powerful forces aligning to take them down.
The Oversight is definitely heavier on the world and plot than character building. This isn't to say that there's a lack of character building, but the ever-rotating third person POV keeps you from ever truly feeling like you got into anyone's head. It fits the mysterious vibe of the book perfectly and by the end I realized that Fletcher had very subtly conveyed who everyone was and what they were after. (Oh, and if you are so inclined, and I am, there is a ship. It's one of those ships that isn't a ship but you're shipping it anyway and just when you're wondering if you made it all up BAM! Ship on the horizon.)
The advantage of the POV is that it does an incredible job of building tension. You have the dubious pleasure of watching the bad guys stack the deck and close in on the unknowning heros in an excruciating and methodical fashion. The crushing suspense works hand in hand with previously mentioned slow burn reveals creating a thoroughly intense reading experience that skillfully manages to stay just shy of I'm-done-with-this frustrating.
If I had one complaint, it would be that the overall purpose of this book seems to be setting the stage for what's to come. There's plenty of action and the plot has a definite arc to it, but it leaves you with the feeling that this is merely the appetizer to the main course and whil eI don't think this really bothered me, it did leave me unmanageably desperate for book two. I'd say about 90% of The Oversight was a solid 4 star read building to an incredible, explosive, THIS IS EVERYTHING I WANTED 12 star conclusion that had me all-capsing my way through my notes and shrieking aloud 'OH MY GOD WHAT IS HAPPENING AND WHY IS THIS THE END?!'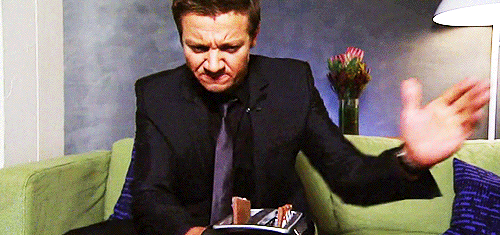 (I SAID MORE. GIVE ME MORE DAMMIT.)
Seriously you guys, I have such a good feeling about this trilogy. It's off to an interesting start and promises big things ahead. For anyone looking for a dark, complicated,  superbly written historical urban fantasy, I've got your book right here and it is fantastic. Are you excited? You should probably be excited. Just get excited already.