I received this book for free from Edelweiss in exchange for an honest review. This does not affect my opinion of the book or the content of my review.
Death Sworn

by Leah Cypess
Series: Death Sworn #1
Published by Greenwillow Books on March 4th 2014
Pages: 352
Genres: Fantasy, Young Adult
Format: eARC
Source: Edelweiss
Amazon・ Good Books・Book Depository
Goodreads

When Ileni lost her magic, she lost everything: her place in society, her purpose in life, and the man she had expected to spend her life with. So when the Elders sent her to be magic tutor to a secret sect of assassins, she went willingly, even though the last two tutors had died under mysterious circumstances.

But beneath the assassins' caves, Ileni will discover a new place and a new purpose… and a new and dangerous love. She will struggle to keep her lost magic a secret while teaching it to her deadly students, and to find out what happened to the two tutors who preceded her. But what she discovers will change not only her future, but the future of her people, the assassins… and possibly the entire world.

From Goodreads
Death Sworn, what the hell happened?
I'm sorry, that's harsh. You weren't the worst and at a few points I really did almost enjoy myself, but the fact remains, you put me to sleep. Four times. Once would have been highly unusual behavior for me, but four? Something's wrong.
Here's the thing Death Sworn, looking back I can see you had a plot arc but while I was reading it felt like things were just happening. I didn't buy the villain in the slightest, the romance seemed abrupt and jerky (did the characters even like each other before declaring the other irresistible and making out?), the twists and turns came out of no where in a way that was more wtf than clever, the MC whined ALL. THE. TIME. and the cult of kamikaze children aspect unnerved me (but less creepy plot element and more in a I do not understand why this is happening, but I know I don't like it).
Wow, put that way, I look a little annoyed, don't I?
The thing is, I didn't hate you, I just didn't particularly like you either. You didn't give me a chance to get engaged. You spent so much energy on your descriptions, I never felt like I got to know your characters (although, thanks to you focus, I had a very attractive picture of Sorin and the way he moves fixed firmly in my head from the first chapter).
Ileni could've been cool I guess, but she spent more or less the entire book focused on the loss of her magic (and Terris, which, what the hell? Why? You could take out every reference to him and it wouldn't affect the rest of the book at all). Instead of making her a sympathetic, brave little toaster, which I believe is what you were going for, it made her whiny and repetitive. You could argue that I should've know from the summary that the loss of Ileni's magic was going to be traumatic for her, but I didn't expect it to be so much of her focus.
I'm not sure if the plot didn't make sense or I kept zoning out and missing the connecting bits, but I do know that the villain was downright laughable. You expect me to believe that an old man, who as far as I can tell, never leaves his study, is so fearsomely smart, far-seeing and badass, he not only doesn't get immediately killed by the HUNDREDS OF ASSASSINS ALL AROUND HIM, but is so awe-inspiring to his cult that these kids (KIDS) willingly kill themselves simply because he tells them to? No, not buying it, not even a little bit.
That was basically your problem, Death Sworn. I didn't buy it. There were a few too many 'wait, what?' moments.
(The following scenarios have been extremely paraphrased)
Example 1:
Master: Kid, jump out the window so I can show this random teenage girl who clearly won't say boo to a ghost and that I already have total authority over how badass I am.
Random, brainwashed child: Okay. *jumps*
Wait, what?
Example 2
Sorin: I'd like to teach you how to defend yourself because you are surrounded by trained killers who all hate you for inexplicable reasons and you are clearly incapable of defending yourself.
Ileni: Nooooo fighting is bad and weapons are dirty, I will use the magic I'm rapidly losing to feebly protect while I decide whether or not I actually have a death wish because I can't seem to stay consistent on the issue.
Wait, what?
Example 3
Sorin: Even though I have mostly ignored you while being an inscrutable stone wall of a person, I actually like you an inconvenient amount and plan to sleep with as many women as possible to get you out of my head.
Ileni: Seems legit, let's make out.
Wait, WHAT?!
Example 4
Just kidding! Fade-to-black make out scene because ew! Gross! Cooties!  SERIOUSLY BOOK, WHAT ARE YOU DOING AND WHY?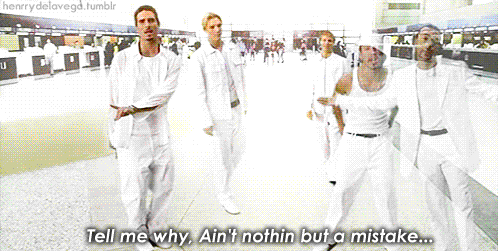 This is the part where I'd like to summarize my feelings, but I don't really have many about you, Death Sworn. You had some charm, but not enough for me to forgive your flaws. Don't feel too bad, plenty of other people really liked you, I just…didn't. I wish you the best of luck in future endeavors, maybe your sequel will blow me away, but for now I think we should part with grace and whatever dignity we have left and go our separate ways.
(Totally unrelated, in the course of my research I came across my favorite of all the early 2000s boy band dance moves and I wanted to share it with everyone:
Enjoy the rest of your day.)