That's right. It's Cuddlebuggery's 6 month anniversary! To celebrate this momentous occasion, I'd like to share a little story on how Cuddlebuggery started as told pour moi.
It feels like only yesterday when I posted a little message on Kat's GoodReads profile saying, "Kat, you and I should start a group blog. We'd be awesome. XD", which she ignored for weeks.
It was an accident! -Kat
The heifer. She had me worrying. Did I come off too pushy? Desperate? Was I not cool enough? Was my use of the emoticon coming off a little too aggressive? What was I thinking? I probably shouldn't have even sent that message. *despair*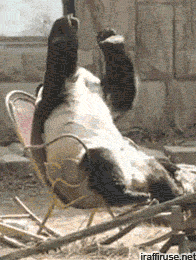 Finally, she replied back to me with a simple, "Ah, Stephanie! I didn't see your post there! We could have, that would have been awesome." Lies. I mean, what did that even mean? Was that a yes? Maybe? No, she was just trying to let me down easy without hurting my feelings
I was. – Kat
*kicks rocks*
Then one morning I woke to find Kat had sent me a message saying, "Just want you to know that I totally regret not taking you up on the joining together of the blogging prowess now. I really, really should have." This pleased the Dark Mistress and I replied, "It is not to late! We could still be awesome together…" Now what Kat doesn't know is that I started partying super hard after that. I whipped my hair back and forth. I Hammer Timed. Then I did a mean-ass solo on my air guitar.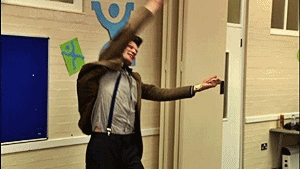 Combining forces with Kat was one of the best decisions of my blogging career (mine too! -Kat), but we knew we were missing something. After all, we were kicking out a posts almost everyday. Our husbands were getting lonely. Something had to be done! And that is when we put up the call for another co-blogger. We were nervous about the endeavor because we were both HIGHLY protective of the Cuddlebuggery brand, but imagine our surprise when our good friend, Adam Archer, applied. Not only did he write great reviews and host original, fun, creative posts on his own blog, but we felt he was the perfect fit for Cuddlebuggery. We were so happy! We shared virtual hugs and tears! We'd found our missing link!
You mean VIKING!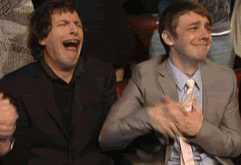 So I can't believe it's only been 6 months. In just a short amount of time we reached over 100,000 visitors and over 200,000 page views. That's insane! The three of us have worked so incredibly hard, drank lots of alcohol and eaten tons of chocolate to keep Cuddlebuggery running. But we know it's our readers who keep us going and this giveaway is for you guys. From us to you:
THANK YOU!
And now for the fun stuff. We are giving away books, yo.
Giveaway
We are giving away an awesome assortment of highly anticipated titles that include (click the cover for GoodReads link):
One lucky reader will receive ARCs of Crewel, Pushing the Limits, Alice in Zombieland, What's Left of Me, Embers and Echoes and a finished copy of The Forsaken!
Contest Rules:
To enter, please fill out the Raffelcopter form below.

We ask that all entrants be at least 13 years or older to enter.

The giveaway is open to anyone! US and International! 
When the winner is chosen, it will be announced here and the winner will be emailed. Please check your email because we are only giving the winner 48 hours to respond! Otherwise another winner will have to be selected.
Please enter your email address in the Rafflecopter form and not the comments!
Also, please understand that we reserve the right to disqualify any entries we find gaming the system. Cheaters never prosper!