I received this book for free from NetGalley in exchange for an honest review. This does not affect my opinion of the book or the content of my review.
Shadow and Bone

by Leigh Bardugo
Series: The Grisha #1
Published by Henry Holt Books for Young Readers on June 5th 2012
Pages: 368
Genres: High Fantasy, Young Adult
Format: eARC
Source: NetGalley
Amazon・ Good Books・Book Depository
Goodreads

The Shadow Fold, a swathe of impenetrable darkness, crawling with monsters that feast on human flesh, is slowly destroying the once-great nation of Ravka.

Alina, a pale, lonely orphan, discovers a unique power that thrusts her into the lavish world of the kingdom's magical elite—the Grisha. Could she be the key to unravelling the dark fabric of the Shadow Fold and setting Ravka free?

The Darkling, a creature of seductive charm and terrifying power, leader of the Grisha. If Alina is to fulfill her destiny, she must discover how to unlock her gift and face up to her dangerous attraction to him.

But what of Mal, Alina's childhood best friend? As Alina contemplates her dazzling new future, why can't she ever quite forget him?

Glorious. Epic. Irresistible. Romance.
If I could wrap up my emotions about how I felt after reading Shadow and Bone and send them to you through my computer screen, I totally would. Instead, I'm afraid you'll have to settle for my words: THIS BOOK WAS AMAZING! I wish I could unread it just so I can go back and re-read it again for the first time.
Yes, I loved it that much.
Now I've come to the part where I am supposed to describe to you the awesomeness that is Shadow and Bone and I'm finding that rather difficult to do. Why is that? Is it because while reading a book you love your get so swept away with the story that you can't be bothered to take notes? Or perhaps it's the fact that you don't want to give away too much of the story? You want other potential readers to go into the book blind, expecting little and gaining everything the story has to offer. I suspect it is a little of both for me and with that, I offer my sincerest apologies if you do not find this review helpful. It is my hope, however, that my inability to do this book justice in my review speaks volumes in and of itself.
Shadow and Bone follows the story of Alina Starkov, a remarkable young girl, who holds a power not even she realizes she has. All her life she's never fit in. Not in the orphanage where she grew up alongside her best friend, Mal, nor in the First Army where she serves as a mapmaker. In her world people of elite status with unique abilities, called Grisha, serve as nothing more than fanciful servants to the kingdom of Ravka.  One day, while protecting Mal, it is revealed that she too is Grisha with a very rare and sought after power: the ability to summon sunlight. She soon finds herself in a very different world filled with adventure, betrayal, and a sinister plot that could destroy all of Ravka.
Within the first 10% of Shadow and Bone I knew that I would give it at least 4 stars. The book begins quickly immersing the reader into the kingdom of Ravka head on. Terms are thrown at the reader at a reasonable pace for a fantasy novel and for once I didn't immediately feel overwhelmed or the need to "play ketchup" with the characters. I can tell Bardugo employed the rule of "show, don't tell" and I believe she did it well. I found myself hanging on the edge of my seat waiting for more of the world to be revealed to me. There was never a dull moment reading Shadow and Bone; no downtime for me to catch my breath. And I loved every minute of it!
I thought the plot was very well done and I got so caught up in the story that the plot twists just blew me away. I was so engrossed that by the time the climax hit I felt an intake of breath and couldn't tear myself away from the book for the duration of the read!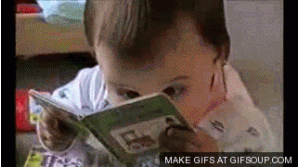 Oh. My. God. NOooooooo!
And the characters…. ahhhhh, the characters! I loved them all to pieces! Alina is naive, candid, and feeble in the beginning, but she grows so much throughout the novel. (Yes, Yes! I know! Character development! It really does still exist in YA novels!) Does she make mistakes? Absolutely! But she realizes them and she strives to be better. I can see there is a lot of conflict in her character to come in the next two novels in the series and I am VERY eager to see how that is handled. I also loved the Darkling. I can't really say much about him because I am NOT giving away any spoilers in this review–not even in a spoiler tag because I know how some of you are!– but he was awesome! Just the right amount of intrigue and mystery. And Mal. *sigh* Oh, Mal. Let's just say he is another love interest we can add to our swoon worthy list right next to Tucker Avery. 😉
"I missed you every hour. And you know what the worst part was? It caught me completely by surprise. I'd catch myself just walking around to find you, not for any reason , just out of habit, because I'd seen something that I wanted to tell you about or because I wanted to hear your voice. And then I'd realize that you weren't there anymore, and every time, every single time, it was like having the wind knocked out of me. I've risked my life for you. I've walked half the length of Ravka for you, and I'd do it again and again and again just to be with you, just to starve with you and freeze with you and hear you complain about hard cheese every day. So don't tell me why we don't belong together," he said fiercely.
I think it goes without saying I loved the writing. The descriptions were vivid, easy to visualize and thankfully, not overdone (I'm really hoping there will be a map in the finished copy. Please tell me there's a map waiting for me!). The book is told through Alina's PoV, so we get a first hand account of the happenings. And boy are there some happenings! I'll tell you one thing, Bardugo can writing a kissing scene… well. And the romance? Man, I just loved the romance. It was so sweet and by the end it just tore at my heart!
The moment our lips met, I knew with pure and piercing certainty that I would have waited for him forever.
*sigh*
This book. I just love it!
I'm really not sure what else to say about Shadow and Bone besides the obvious: it was awesome and you should read it. If you are a fantasy lover, rejoice! If fantasy isn't your thing, still rejoice! Because this is a book that is sure to take you and your heart on a wild adventure this summer.
EDIT: I've been informed that there will be a map included drawn by Keith Thompson! Click here to check it out!
ARC provided by the publisher via NetGalley. As always, this review expresses my honest opinion of the book. No gifts or monetary funds were exchanged for a review.