I received this book for free from NetGalley in exchange for an honest review. This does not affect my opinion of the book or the content of my review.
Everneath

by Brodi Ashton
Series: Everneath #1
Published by Balzer + Bray on January 24th 2012
Pages: 370
Genres: Paranormal Romance, Young Adult
Format: eARC
Source: NetGalley
Amazon・ Good Books・Book Depository
Goodreads

Last spring, Nikki Beckett vanished, sucked into an underworld known as the Everneath. Now she's returned—to her old life, her family, her boyfriend—before she's banished back to the underworld . . . this time forever. She has six months before the Everneath comes to claim her, six months for good-byes she can't find the words for, six months to find redemption, if it exists.

Nikki longs to spend these precious months forgetting the Everneath and trying to reconnect with her boyfriend, Jack, the person most devastated by her disappearance—and the one person she loves more than anything. But there's just one problem: Cole, the smoldering immortal who enticed her to the Everneath in the first place, has followed Nikki home. Cole wants to take over the throne in the underworld and is convinced Nikki is the key to making it happen. And he'll do whatever it takes to bring her back, this time as his queen.

As Nikki's time on the Surface draws to a close and her relationships begin slipping from her grasp, she is forced to make the hardest decision of her life: find a way to cheat fate and remain on the Surface with Jack or return to the Everneath and become Cole's queen.

Everneath is a captivating story of love, loss, and immortality from debut author Brodi Ashton.
Right after I finished Everneath I gave it 4 stars right off the bat. It was an easy read with a great story and fantastical characters. Why didn't I give it five stars? I had to think on that. So, I spent an entire week trying to figure out what it was about Everneath that I disliked. Conclusion:
It's true, folks. I don't have any negative things to say about Everneath. I LOVED it.
Everneath tells the story of Nikki Beckett, who having since vanished 6 months ago to the Everneath, returns to her family and friends seeking a way to permanently say goodbye before she returns to the Underworld for good. However, "bad boy", Cole, the immortal who first took her to the Everneath, wants to make her his immortal queen and forget about those she left behind. With a period of only six months, Nikki struggles to fight her addiction to Cole, right her wrongs, and somehow find a loop-hole that will keep her with her loved ones.
There are a few aspects in Everneath that make it stand out above the usual follies in the paranormal romance genre. For all of those novels that have done it wrong over and over, Everneath does it right.
What I LOVED and can't get enough of (baby):
The Characters:
Are you tired of the usual teen angst? The main character and the love interest seeming to have some whack, ass-grabbed excuse for why they can't be together? Well, so am I. Each character in this book felt like they were extremely well-developed with real issues. Nikki is looking for redemption for something she knows is her fault. She's not looking for anyone to save her. She's not pouting in the corner having a FML moment. She's doing something about it. It was her decision to go with Cole to the Everneath and allow him to feed off of her. She could have blamed it on Jack's actions, but she took full responsibility.
Cole is a very complex character. He tries very hard to convince Nikki to leave her home and become an immortal, Everliving, like him and rule as queen. But, Nikki doesn't want that. While reading, the reader is left to wonder if he is genuine when he says he cares about her or is her just playing her. Somehow Ashton manages to make us somewhat sympathetic to Cole, but she still reminds the reader that he is the bad boy. How many times do we see the heroine being instantly swept away by the bad boy's good looks? Or how about getting lost in his glorious deep eyes, that also happen to be the exact shade of the darkest pits in hell? Or my personal favorite: stalk me! I love it when you creep! *barf* Kill me now. Nikki doesn't back down from her guns. Cole follows her and she tells his ass to take a hike. Cole stakes out at her window and she tells that fool to get lost. However, there always still remains intrigue surrounding Cole. I expect to see a lot more from him in the next book.
Jack is the sweetest love interest I've read about in a while. He never gives up on Nikki when she disappears for 6 months. He was supportive and kind throughout the entire novel. Ladies, and I'm not saying this mildly, if you love Tucker Avery if you don't know who that is, you are DEAD to me! [just kidding…sorta], then I'm sure you will love Jack too. Jack suspects something is amiss with Nikki and despite her not being as forthcoming about it, he steadily is always there patiently waiting until she is ready to talk.
I mean, how can you say no to a book with characters that awesome?!
The Triangle of Love:
Ashton plays this pretty slick. As I've already mentioned, Nikki avoids Cole's advances, but I know where this is headed. I'm just way too smart to be fooled!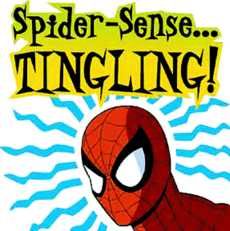 But, you know what? I think this will be one of those cases where I'll like it. In fact, I'm going to make a rather bold statement here and say this love triangle resembles Cynthia Hand's Unearthly. Yes, I said it. You see Hand and Ashton are doing something very interesting with their romances. They both have strong female leads that clearly have a preference in the department of who they want to end up with. They struggle to ward off advances from the other male love interest, but because of factors out of their control (this is called a plot people!) they must tolerate him. He isn't around just to make the "good guy" look extra nice with his boy next door, award-winning smile. He has a purpose besides trying to steal away the girl. Not only that, but the heroine knows this and tries everything in her power to not get involved with the "bad boy" because, duh!, he is BAD. And that is why it works for me. It makes me so happy someone has stopped trying to sell me the arrogant "bad boy" as a viable love interest when he has zero redeeming features! Thank you, Ashton. Gold star!
One of the best messages this novel has is the consequences of co-dependent relationships. They reason why Nikki left to go to the Everneath was a direct result of an event involving her boy friend, Jack (coupled with a few other things). Similarly, Jack loses it completely when Nikki disappears. The reason why it works in this story is because both characters acknowledged those actions were not healthy and both regretted it. Their knee-jerk reaction and violent depression is not romanticized in any way. I really wish more authors portrayed this message more often in their novels because it's important to show that losing your boy friend/girl friend can suck, but it is not the end of the world.
The Plot:
That's right, this book has one! Nikki is on a mission: redemption. That is what she attempts to gain in this novel. When she disappeared into the Everneath 6 months ago, she left a lot of relationships strained and now she is looking to fix them. She doesn't stray from that path and suddenly start fantasizing about the "bad boy" randomly. This is what makes this book such a winner because too often I see the plot being left in the bloody dust because an author thought it would be "totally romantic" to have the heroine frolic through the gardens with one of her boy toys. I'm happy to say that did not happen here. You ever heard of the saying "no romance without finance"? Well, I'm introducing a new saying: No romance without plot progress. While this is a paranormal romance through and through, the plot is always in the front.
The Ending:
So sad, but so perfect. I love how things are tied up nicely, yet you know there is more to come. I'm really excited to read the next book, but I don't feel like Ashton left me to walk the plank with Everneath's ending. Thank you for that. There are only so many cliffhangers I can take before my poor little heart gives out. It will be very interesting to see where she takes this story.
So, if you are tired of the usual run of the mill paranormal romances, you should head right on over to your book store and pick up Everneath. You're in for a treat!
ARC received through NetGalley. As always, these are my honest opinions and I was not paid for my review!