Today I have the pleasure of welcoming Lea Nolan, author of The Hoodoo Apprentice series, to the blog today! She's stopped by before and gave us a tour of St. Helena, South Carolina, the setting for the series. If you love magic in your books (and hello? who doesn't, amirite?) then this one might just be up your alley! Today, she's sharing her own Bad Blood Squad and showing off the brand new covers for the series. Check it out and enter to win some books, yo!
---
---
I've been looking forward to this post ever since Steph gave me the idea for the topic. Taking a cue from Taylor Swift and creating my own all-girl, butt-kicking posse? Awesome!
You'd think it'd be easy to rustle up a posse, a pack of real and fictional go-to-girls you'd want at your back, but it was harder than I thought. There are only six spots and the choices are endless, so there's a lot of pressure to pick the right warriors. Yes, I realize Taylor had 18 super guests in her posse, but I'm no Taylor Swift. I'm a mild mannered suburban mom, wife, author, and occasional demon slayer; six is enough. So after much deliberation, here's my list:
Emma Guthrie, played by Emily Osment, circa her teen years
Why she's in my posse: When I started writing the Hoodoo Apprentice series, I dream cast Emily in the title role of my heroine, Emma Guthrie because I'd seen her in Spy Kids and Hannah Montana and she always struck me as spunky, smart and pretty, but not the type of girl who'd be obsessed with her looks or popularity. Plus, she looked exactly as I'd imaged Emma in my head.
In the Hoodoo Apprentice series, Emma is a shy, artistic girl who is thrown in to a desperate battle with evil forces to save herself and those she loves the most. Over the course of the trilogy, she meets every challenge head on, though not without making plenty of mistakes, grows stronger, and finds her own voice. She's tough and plucky, dedicated and determined, and always has her heart in the right place. And she's got the gift of being able to perform hoodoo magic, lift hexes, and battle supernatural enemies. Why wouldn't I want her on my posse?
Miss Cordelia "Delia" Whittaker, as played by Cicely Tyson, circa the present
Why she's in my posse: I've been aware of Ms. Tyson for nearly my entire life, ever since the ground breaking mini-series Roots was first broadcast on television in the 1970s. Yes, I'm that old. Let's not talk about it. Anyway, Ms. Tyson has always played strong, determined, interesting women and thus was the natural candidate for me to dream cast as Miss Delia, the 97-year old, tough, ornery, and loving hoodoo root worker who mentors Emma in my series. I'd have dream cast her in this role even if I'd never seen her in the film, Because of Winn Dixie, but the fact that her character worked magic and had a bottle tree just like Miss Delia didn't hurt. Miss Delia is a must in my posse not just because she can work any spell and defeat any bad guy, but also because she knows the difference between right and wrong, and the importance of using your power for good.
Zora Duval, as played by Amber Patrick Riley, circa the Glee years
Why she's in my posse: I loved watching Amber Patrice Riley as Mercedes in Glee. She was talented, funny, vulnerable, and a great friend. That made her the ideal actress to dream cast in the role of Zora Duval, a new character introduced in Illusion as Emma's new best friend. Zora is the best kind of best friend for Emma: kind, sensitive, supportive, she doesn't ask questions, and can be counted on to get rid of a dead body if necessary. Definitely posse worthy.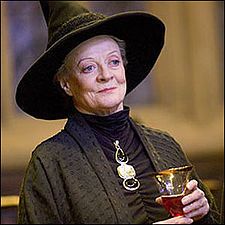 Professor Minerva McGonagall as played by Dame Maggie Smith in the Harry Potter movies, circa her tenure as Headmistress of Hogwarts
Why she's in my posse: Between Emma and Miss Delia, I've probably got my supernatural butt-kicking bases covered, but just in case, I figure it's smart to hedge my bets. And who better to offer magical back up than the new Headmistress of Hogwarts, Professor of Transfiguration, and registered Animagi? You never know when you'll need an extra spell, someone to fly a broom, or transform into a cat.
Katniss Everdeen, as played by Jennifer Lawrence, circa after the War in Mockingjay but before the Epilogue.
Why she's in my posse: I love Katniss. She's strong, resilient, protective, and can be brutal when necessary. Who cares that she's not soft, warm and snuggly? My girl's got some mad foraging, wildlife, hunting, and survival skills. If we get lost, she'll make sure we eat. Because she's got arrows. Lots of them. And can kill from hundreds of yards away.
The Trinity, aka, The Plot Busters
Why they're in my posse: Okay so this one is sort of a cheat because I said I only had six spots to fill, but Taylor Swift got sort of a three-for when she cast Hailee Steinfeld as The Trinity, so I figured I can too. Except my Trinity aren't triplets, they're made up of my best friends and writing pals, Laura Kaye, Stephanie Dray, and Christi Barth. That's us at this year's Romance Writers of America RITA Awards gala. Aren't we fancy? These smart, creative women are the first ones I run to when I hit a story wall and they're always able to talk me through a solution. More than that, they're always there to hold my hand, shed a tear, or share a belly laugh. They make the hard times easier and the good times more memorable. My posse wouldn't be complete without them.
Things aren't always as they appear…

New school. Cross-country move. Broken heart. If only these were Emma Guthrie's worst problems. Instead, she must battle a trio of enemies–human and spectral–who may or may not have joined forces against her and everyone she loves. All while pretending to be over Cooper Beaumont, her ex-boyfriend and true love, to shield him from her arch-nemesis's revenge.

Worse, when the fight escalates, Emma is tempted to use black magic, which will endanger her soul. As her enemies close in, join forces, and fight with new and dark magic she's never seen before, Emma must harness the power within her to fulfill an ancient prophecy, defeat a centuries-old evil, save her family, and reclaim the only boy she's ever loved.
And here are the gorgeous new covers for the previous books in the series, Conjure and Allure. Aren't they a perfect match to Illusion?
And now for the giveaway. One lucky Cuddlebuggery reader will win a choice of a signed paperback, either Conjure or Allure. To enter just click the Rafflecopter link below. Best of luck to those who enter.
Thanks so much for having me!  I hope you enjoyed meeting my posse!
~Lea