I received this book for free from Publisher in exchange for an honest review. This does not affect my opinion of the book or the content of my review.
Siege and Storm

by Leigh Bardugo
Series: The Grisha #2
Published by Henry Holt Books for Young Readers on June 4th 2013
Pages: 448
Genres: High Fantasy, Young Adult
Format: ARC
Source: Publisher
Amazon・ Good Books・Book Depository
Goodreads

Darkness never dies.

Hunted across the True Sea, haunted by the lives she took on the Fold, Alina must try to make a life with Mal in an unfamiliar land, all while keeping her identity as the Sun Summoner a secret. But she can't outrun her past or her destiny for long.

The Darkling has emerged from the Shadow Fold with a terrifying new power and a dangerous plan that will test the very boundaries of the natural world. With the help of a notorious privateer, Alina returns to the country she abandoned, determined to fight the forces gathering against Ravka. But as her power grows, Alina slips deeper into the Darkling's game of forbidden magic, and farther away from Mal. Somehow, she will have to choose between her country, her power, and the love she always thought would guide her–or risk losing everything to the oncoming storm.
I always go into a second book in a series with fears that it will have the dreaded "Second Book Syndrome". I worry that the characters will regress, the plot will stall and surmount to overall ridiculousness, and in the end, become boring and lathered in disappointment. So even though The Grisha series is a new favorite for me, I still had these concerns. You cannot even imagine my glee when I discovered Siege and Storm did NOT suffer from any of these things. On the contrary, it was even better than its predecessor. If you loved Shadow and Bone, be prepared to be blown away!
There are so many things I want mention and squeal about in this review, but OH THE SPOILERS. And anyway, Kat did such a great job with reviewing in code already. So I've decided to just write letters.
Dear Darkling,
You're so evil, but I can't seem to conjure up any feelings of dislike for you. In fact, I missed you in Siege and Storm. For most of the novel, you were gone from me, only appearing in Alina's dreams. How fair is that? Don't you know how much I need your evil goodness to be present at all times? Seeing you torture the poor peasants of the Grisha world, warms my heart.
And, oh, Darkling, what new skills you have. Wait, does that sound dirty? Because it totally isn't. Then again, you did tell us all to, "Make me your villain." It's only fair if I, too, am allowed at least one inappropriate pun. But seriously, you've leveled up faster than a Super Saiyan in Siege and Storm. Kat says you learned to line dance, but I think it's more along the line of baking cookies. You showed those cookies who was boss!
But your ending concerns me. I guess the cookie batter turned out to be much more difficult that you expected. Maybe you should take a page from Paula Deen and add more evil butter. I'm not sure this has anything to do with book 3, Ruin and Rising, but I just like cookies, okay? And you. I like you too. So be sure to be extra evil next time and give those cookies a run for their money.
Love,
Steph
——————–
Dearest Mal,
Please do us all a favor and stop being so insecure over your relationship with Alina. The girl's got a lot on her plate. She has the responsibility of saving all of Ravka, which is kinda a tad more important than you. I need for you to be more understanding and supportive. I liked you in Shadow and Bone, but I'm starting to think I'm outgrowing my mildly inappropriate swooning of you. Just yesterday, I found myself wondering if Leigh might actually kill you off in Ruin and Rising. If that happens, it's possible I might only mourn you for half a page. No, no, no! I take it back! Don't you dare die on me, Mal-Mal!
Ture love is tough love,
Steph
P.S. I still love you, Mal. <3
——————–
Sturmhond,
I think I speak for everyone when I say, please become a real person.
xoxo,
Steph
========
And finally:
Dear Leigh,
Amazing.
You are evil. Evil, evil, evil. So evil, your stories leave me speechless. Your humor sends me into fits of giggles and tickles my tender pieces. Your plots make me wish I can pack my bags and vacate to your mind if only for a day. Please don't ever stop being this awesome evil. And because Troy gifs have become our thing: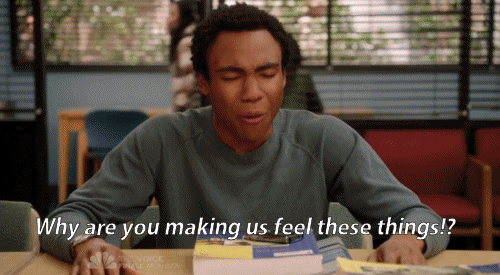 Also, that ending is causing me to hit the Kvas pretty hard tonight. Look what you've done to me.
Mal, Darkling, Sturmhond… I must collect them all.
Hiccup,
Steph
An ARC was received for a review from the publisher. No monies or favors were exchanged for a positive review. Thanks, Macmillan!