Ah, GoodReads. I can't deny that I love that site. It's where both Kat and I first entered into the big world of reviewing before we started blogging. And even today we are very active there partially because we are crazy addicted and we have no lives. But seriously, there is no better site to get great book recommendations and find hidden gems. It's a gold mine full of people who love books just as much as I do.
Of course, with every person who says they LOVE GoodReads, there is another who would find no greater happiness than watching the site burn to the ground. They'd probably even dance on the ashes like it's no tomorrow Footloose style. At first, I couldn't understand it, but I've been watching the author meltdowns, tantrums and the like for a while now and I think I have it figured out. GoodReads has this reputation, especially in Young Adult land. There are these preconceived notions about what GoodReads is or rather, what it should be. Unfortunately, all this does is detract from an awesome experience with fellow book geeks. And dammit, I'm a little tired of it all because you think you know, but you have no idea. So maybe we should sit back and talk about this. Maybe we should all join hands in a circle and search our feelings. Wait, does that sound lame? Okay, well how about I just do a (possibly) humorous run-down and debunk some myths? Yes?
1. Professionalism
Myth: GoodReads reviews should be professional and unbiased. Being the good reviewing site that it is, it's full of professional reviews giving feedback on books that will always help
other readers with purchasing a book. The reviews found there are concise and to the point, never overly harsh or snarky. It is their duty and the only way to be taken seriously.
Truth: *runs out to check mailbox* Damn, it looks like the Big Six forgot to mail out my check. Again. Look, the reality is GoodReads reviewers are not getting a paid for what they do. Hell, I wish I did get paid for reviewing books on that site. Maybe then I'd have a more plausible explanation for being on there at the strangest hours of the night. No, scratch that. I like that I work for no one. It allows me to not have to play the Be Nice rule. I don't want to Be Nice, I want to be honest. We are all (mostly) normal people chatting about books. It's a social networking site where readers gather together and either gush or bitch about books. Sometimes more bitching, depends on the day or alignment of the planets.
2. Yin & Yang
Myth: There are so many negative reviews on GoodReads, hardly any positive reviews.
Truth: There are positive and negative reviews to every book on GoodReads. Do some books have more negative reviews than others? Sure, but c'mon. Let's be honest here. Not every star shines just as bright as another. Sometimes a book sucks. Hard. That's not a reader's fault. Blame Mufasa and the circle of life.
3.  Haters Gonna Hate
Myth: The ones that write those snarky reviews are all haters! They just love to hate and tear apart books for fun. They're probably spawns from the Grinch and kick puppies just for laughs! Evil reviewers! I hope you step on a Lego!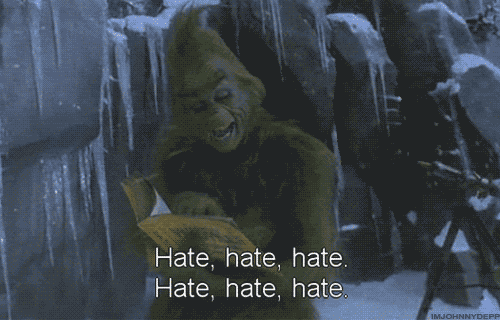 Truth: Yeah, that's right. We just love reading sucky books because we are haters. We climbin' in your windows, snatchin' all your books, tryna review 'em…  (<=== In case you missed it, that's sarcasm.) The truth is we hate wasting our time. Who wants to sit around reading bad books all the time just to spend hours pouring over a keyboard tearing it to shreds? Not me. And I would say most reviewers don't like writing negative reviews, but someone's gotta write 'em. Not to mention we have lives. Outside of reviewing. I know, it surprises even me sometimes too.
4. Shit Stirrers
Myth: Those darn GoodReaders are always starting drama. They just love to stir shit up. Damn trolls.
Truth: *snort* Okay, I won't sit here and deny that GoodReads doesn't have a fair share of drama. It does. However, it's not because they are actively seeking it. No one is huddled together like gremlins plotting their next big trollish prank. Now, of course, when drama does break out everyone and the Drama Llama's gold-fish seems to flock to it faster than the Playboy bunnies to Hefner's mattress. They just can't help themselves.
5. The YA Mafia
Myth: The real problem with GoodReads is that there's a group of reviewers that lead witch hunts against poor authors: The YA Mafia! *gasp*
Truth: "You're so vain. You probably think this song is about you. Don't you? DON'T YOU?!" Lolz. This one always makes me laugh. A YA Mafia?! Really? Lolz. Like the Godfather?
I think some give YA GoodReads reviewers a little too much credit. It surprises me to believe people actually think I would go out of my way to make someone else miserable. Do they envision us running after ogres shouting, "Grab your torch and pitchforks!" Hahaha! That would be pretty funny. But, real talk. No one is out to "get" anyone. They only time reviewers band together is if one if their own has been attacked by an author. In those cases, while there has been overreactions on both sides of the fence, there is no mafia. I mean, really. What's the worst we can do? Shelve a book on our "Do Not Read" lists? Unfollow someone on Twitter?
But… Just for kicks, if I were to lead a YA Mafia, I'd do that shit in style. We'd all go around dressing in badass, black suits, wearing shades even when it's dark out. Then we'd carry these shiny, high-tech guns with tons of buttons specializing in blowing stuff up. You'd never see us coming because we'd be that good. Omg, I'm a freakin' genius! Oh, wait…