Book Releases
Release Date: March 6 2012
Pieces of Us by Margie Gelbwasser
Release Date: March 8 2012
Vampire's Kiss by Veronica Wolff
Release Date: March 6 2012
Embrace by Jessica Shirvington
Release Date: March 6 2012
Where It Began by Ann Redisch Stampler
Release Date: March 6 2012
Release Date: March 6 2012
Everlasting by Elizabeth Chandler
Release Date: March 6 2012
Release Date: March 1 2012
 Cover Reveals
Black City by Elizabeth Richards
Revealed on: Xpresso Reads
Expected Release: November 13 2012
A dark and tender postapocalyptic love story set in the aftermath of a bloody war  In a city where humans and Darklings are now separated by a high wall and tensions between the two races still simmer after a terrible war, sixteen-year-olds Ash Fisher, a half-blood Darkling, and Natalie Buchanan, a human and the daughter of the Emissary, meet and do the unthinkable—they fall in love. Bonded by a mysterious connection, that causes Ash's long dormant heart to beat, Ash and Natalie first deny and then struggle to fight their forbidden feelings for each other, knowing if they're caught they'll be executed—but their feelings are too strong. When Ash and Natalie then find themselves at the center of a deadly conspiracy that threatens to pull the humans and Darklings back into war, they must make hard choices that could result in both their deaths.
Archangel's Storm by Nalini Singh
Revealed on: RT Book Reviews
Release Date: September 15 2012
With wings of midnight and an affinity for shadows, Jason courts darkness. But now, with the Archangel Neha's consort lying murdered in the jewel-studded palace that was his prison and her rage threatening cataclysmic devastation, Jason steps into the light, knowing he must unearth the murderer before it is too late.  Earning Neha's trust comes at a price—Jason must tie himself to her bloodline through the Princess Mahiya, a woman with secrets so dangerous, she trusts no one. Least of all an enemy spymaster.  With only their relentless hunt for a violent, intelligent killer to unite them, Jason and Mahiya embark on a quest that leads to a centuries-old nightmare… and to the dark storm of an unexpected passion that threatens to drench them both in blood.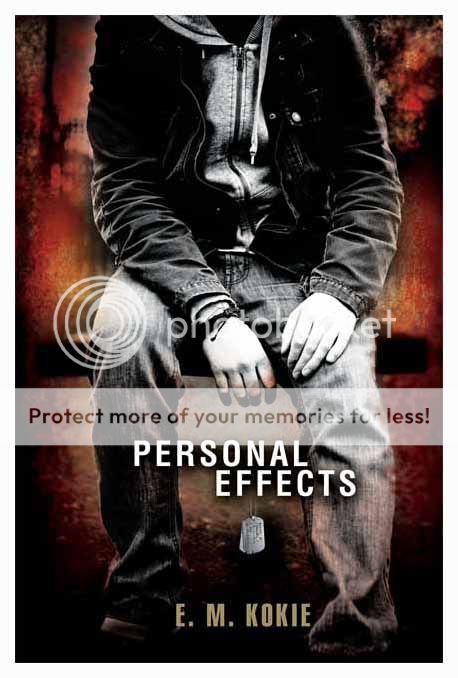 Personal Effects by E. M. Kokie
Revealed on:  Kokie's Blog
Date Released: September 11 2012
Ever since his brother, T.J., was killed in Iraq, seventeen-year-old Matt Foster feels like he's been sleepwalking through life — failing classes, getting into fights, and avoiding his dad's lectures about following in his brother's footsteps. T.J.'s gone, and the worst part is, there's nothing left of him to hold on to. Matt can't shake the feeling that if only he could get his hands on T.J.'s stuff from Iraq, he'd be able to make sense of his death. He wasn't expecting T.J.'s personal effects to raise even more questions about his life.  Now, even if it means pushing his dad over the edge …  even if it means losing his best friend …  even if it means getting expelled from school …  Matt will do whatever it takes to find out the truth about his brother's past.
Pretty Amy by Lisa Burstein
Revealed on: Total Bookaholic
Date Released: May 15 2012
Amy is fine living in the shadows of beautiful Lila and uber-cool Cassie, because at least she's somewhat beautiful and uber-cool by association. But when their dates stand them up for prom, and the girls take matters into their own hands—earning them a night in jail outfitted in satin, stilettos, and Spanx—Amy discovers even a prom spent in handcuffs might be better than the humiliating "rehabilitation techniques" now filling up her summer. Worse, with Lila and Cassie parentally banned, Amy feels like she has nothing—like she is nothing.  Navigating unlikely alliances with her new coworker, two very different boys, and possibly even her parents, Amy struggles to decide if it's worth being a best friend when it makes you a public enemy. Bringing readers along on an often hilarious and heartwarming journey, Amy finds that maybe getting a life only happens once you think your life is over.
The Peculiars by Maureen Doyle McQuerry
Revealed on: Sister Spooky Book Fangirl
Release Date: May 1 2012
This dark and thrilling adventure, with an unforgettable heroine, will captivate fans of steampunk, fantasy, and romance.  On her 18th birthday, Lena Mattacascar decides to search for her father, who disappeared into the northern wilderness of Scree when Lena was young. Scree is inhabited by Peculiars, people whose unusual characteristics make them unacceptable to modern society. Lena wonders if her father is the source of her own extraordinary characteristics and if she, too, is Peculiar. On the train she meets a young librarian, Jimson Quiggley, who is traveling to a town on the edge of Scree to work in the home and library of the inventor Mr. Beasley. The train is stopped by men being chased by the handsome young marshal Thomas Saltre. When Saltre learns who Lena's father is, he convinces her to spy on Mr. Beasley and the strange folk who disappear into his home, Zephyr House. A daring escape in an aerocopter leads Lena into the wilds of Scree to confront her deepest fears.
Starling by Lesley Livingston
Revealed on: Livingston's Blog
Release Date: August 15 2012
"Love is just the beginning… of the end."  Mason Starling is a champion fencer for Gosforth Academy, but she's never had to fight for her life. Until now. When a ferocious storm rips through Manhattan and unleashes terrifying creatures onto Gosforth's campus, Mason barely escapes alive. Without help from the mysterious stranger who appeared in the midst of the storm, she might not have made it at all. But now, in the aftermath, Mason's life begins to spin dramatically, mystically out of control, and the only one who seems able to help her is the stranger who can remember nothing but his name: Fennrys Wolf.  As Mason and Fenn uncover more about Fenn's past and the strange events that surround them, they realize that Mason's family — and its dark allegiance to the ancient Norse gods — is at the center of everything. A predetermined fate seems to be closing in on Mason, but is it possible to change one's destiny?  Readers who fell in love with Lesley Livingston's Wondrous Strange trilogy and those who love Cassandra Clare's Mortal Instruments series will be captivated by the sweeping romance and pulse-pounding action of Starling.
Luminosity by Stephanie Thomas
Revealed on: Book Passion for Life
Release Date: September 13 2012
My name is Beatrice. When I was born, I was blessed with the Sight. I was immediately removed from my parents and enrolled in the Institution. At the age of twelve, I had my first true vision, earning my raven's wings. And when I turned seventeen, one of my visions came true. Things haven't been the same since.  The Institution depends on me to keep the City safe from our enemy, the Dreamcatchers, but I'm finding it harder to do while keeping a secret from everyone, including my best friend Gabe. It is a secret that could put us all in danger. A secret that could kill me and everyone close to me.  The enemy has been coming to me in my dreams, and I think I'm falling in love with him. He says they're coming. He says they're angry. And I think I've already helped them win.
Revealed on: District YA
Date Released: November 13 2012
The Essence by Kimberly Derting
Revealed on: Derting's Blog
Date Released: January 1 2013
Book World News
Jan Berenstain, co-creator of the Berenstain Bears, passed away this week.
Jonathan Franzen's Piece on Edith Wharton gives a strange and unnecessary slant to her appearances and is thus  criticized by Victoria Patterson.
One Million Moms are protesting… again.  This time about an Archie Comic that features a gay marriage.
Scandalous Scandals
Contention rose after a review, by McGowan, in the Guardian criticized the current state of YA with it's paranormal and dystopian slant in favour of the disappearing contemporary YA genre.
Fifty Shades of Grey by E. L. James, infamous Twilight Fanfic turned self-pubbed novel, makes it onto the Dr Drew show and ignites fury from it's growing fanbase for its depiction.  The discussion rages over whether the Fifty Shades of Grey trilogy is harmless female fantasy or depicts violence against women.
It is also optioned to become a movie.  But then, it seems so is THIS.