Buzz Worthy News December 6th
Welcome to Buzz Worthy News where the stories are awesome and not at all well-written. Need your YA industry news? Never fear, Kat and Kate are here to give it all to you. Just, ya know, not in any kinda sophisticated sense or nothing.
In this week's Buzz Worthy News, John Green kidnaps Cara Delevingne, Zoella – Zoe Snugg seems to have had her book ghost written, Rainbow Rowell is releasing a Simon and Baz story. All this and much, much more!
Buzz Worthy News is Cuddlebuggery's weekly news post bringing you all the best information about the book and blogging world, particularly for the venn diagram of people who overlap between the two. For new releases and cover reveals of all the best Young Adult fiction, check out our Tuesday post: Hot New Titles.
John Green Kidnaps Adorable Girl and Makes Ransom Video
hahaha J/K, John.  You know I love you.  No, actually, John's Youtube Channel, Vlog Brothers posted an interview with Cara Delevingne, the actress who plays Margo in Papertowns.  He asks her all sorts of delightfully goofy questions about eyebrows and her co-star's kissing skillz.  Enjoy!  (BTW- The part where she tells John what she wants to be when she grows up… bwhahahaha)
Zoella Had Girl Online Ghostwritten
Zoe Sugg, known on YouTube as Zoella was the center of a ghostwriting controversy when her publisher Penguin Random house confirmed the news earlier this week.
Speculation began because of 24-year-old Sugg's acknowledgements page in Girl Online, which reads: "I want to thank everyone at Penguin for helping me put together my first novel, especially Amy Alward and Siobhan Curham, who were with me every step of the way."

Alward is Sugg's editor. Curham's exact role is unclear, but she usually works as a novelist and freelance writer of young adult fiction.
The book itself was super popular, becoming the highest first-week sales for a debut author ever, at 78,109 copies sold.  (Although, can you call it a debut author record when the true author was far from debut??)
A spokesperson for Penguin Random House told the Sunday Times that "to be factually accurate you would need to say Zoe Sugg did not write the book Girl Online on her own".

"Everyone needs help when they try something new. The story and the characters of Girl Online are mine."
RAINBOW ROWELL HAS WRITTEN A SIMON AND BAZ STORY, OMG!!!!!
In case you were absent from the internet on Tuesday, Rainbow Rowell dropped a twitter bomb on all her fans.
My next book comes out next October, and the title is … CARRY ON.

— Rainbow Rowell (@rainbowrowell) December 10, 2014
Yes … THAT "Carry On." pic.twitter.com/giQVGXYvNb

— Rainbow Rowell (@rainbowrowell) December 10, 2014
CARRY ON will be a Simon Snow story. And a Simon & Baz story. A love story. It's my 1st fantasy & it comes out in Oct. I hope you like it!

— Rainbow Rowell (@rainbowrowell) December 10, 2014
Squees could be heard around the internet, because like me, many other people have been pleading for a Baz & Simon story for years.  It's actually kind of funny that's she's writing it though, (some have called it meta, but it's the weirdest meta I've heard of) because it's fanfic of a fake magical world written inside of a novel (which is also about a fake world).  I have honestly never seen anything like this.  It's incredible and groundbreaking and I'm excited to think about what this book could mean for the future of novels.  Here is some more from RR's tumblr.
Simon Snow just wants to relax and savor his last year at the Watford School of Magicks, but no one will let him. His girlfriend broke up with him, his best friend is a pest, and his mentor keeps trying to hide him away in the mountains where maybe he'll be safe. Simon can't even enjoy the fact that his roommate and longtime nemesis is missing, because he can't stop worrying about the evil git. Plus there are ghosts. And vampires. And actual evil things trying to shut Simon down. When you're the most powerful magician the world has ever known, you never get to relax and savor anything. Carry On is a ghost story, a love story, a mystery and a melodrama. It has just as much kissing and talking as you'd expect from a Rainbow Rowell story — but far, far more monsters.
Amazon's Many Troubles….
Amazon is having a tough week this week.  But what is it they say?  The bigger they are, the harder they fall.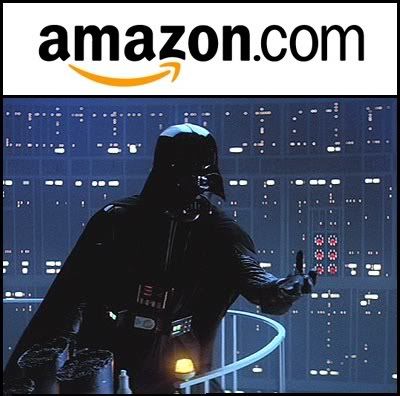 (1) Ebook Theft
Geek.com reports that a longtime problem (ask any author on kindleboards) has become a nightmare for the giant e-retailer, as more and more author accounts are being created to sell stolen e-books on their store.
It would appear as though Amazon has a problem with author accounts being used to steal books and resell them under another name, as Kindle Direct Publishing users discover a single author with 37 titles under their belt. The one thing they all seem to have in common is that the author labeled as the creator of the ebook had absolutely nothing to do with its creation.
It's totally random and sometimes the book in question is the exact picture and description of the REAL THING, so it's really a blatant violation of copyright laws.  People actually seem surprised that Amazon hasn't responded quickly to the problem, but any indie author who has ever had their work ripped off in this manner (and believe me, I've seen them posted on kindleboards), Amazon takes its sweet-ass time in dealing with these issues.
(2) Kindle Unlimited
As reported previously, Kindle Unlimited has not only turned out to NOT be a big money maker for some indie authors (as of this post, getting paid about $1.65 for each book borrow on KU), but it can also be quite detrimental to their bottom lines.  This has led to Amazon's ranking on Mick Rooney's Publishing Service Index, because independent authors are expressing some major discontent.  Courtesy of HM Ward:
I had my serials in it for 60 days and lost approx 75% of my income. That's counting borrows and bonuses. My sales dropped like a stone. The number of borrows was higher than sales. They didn't complement each other, as expected.

At the time of enrollment [in Kindle Unlimited], I had about 60 titles total.
For those who don't know, Ward is kind of a big deal in indie publishing.  She's sold 6 million copies of her self-published stories, 11 New York Times bestsellers in 2013, and a huge voice in her industry.  And she is NOT happy.
Taking a huge ass pay cut while I'm still working my butt off, well that's not ok. And KU affected my whole list, not just KU titles.
In essence, as one observer pointed out:
[Ward] also indicated the KU experience affected all of her titles at Amazon, even the ones that were not part of the subscription service, "because buyers changed into borrowers, who in turn did not spend money on my other titles." And "Ditto on audio sales. They've vanished."
A different type of readership was what she gained, and the payoff wasn't worth the trade for Amazon's demand of exclusivity, so she pulled her books from the Select branch of Kindle Publishing.
It has been pointed out that what KU can give an author is a quick rising sales rank (for now, they've changed the balance many, many times before), so it might be worth it to list it anyway, for a little while.  Me, I don't like to put all my eggs in one basket.
(3) Losing Daphne Durham
After 15 years of working with Amazon, and only 1 year after taking the position to head up Amazon Publishing, Daphne Durham is leaving.  Replacing her will be Mikyla Bruder, for the moment.  No word on who will fill the position permanently.
Durham, who worked for Amazon for 15 years, took over the publishing division after the departure of Larry Kirshbaum, the powerful literary agent and the former chief executive of the Time Warner Book Group. Kirshbaum landed some high-profile authors, including self-help guru Timothy Ferriss and former basketball coach Bobby Knight, but produced few blockbuster titles.

Durham focused less on big names and more on niche markets, such as mysteries, science fiction and religious titles. The company has mined the insights gathered from the data from its digital e-book business to find unsigned authors and push into untapped markets such as fan fiction.
This position seems to have a really high turnover rate. I wonder why…