Twilight is the punch line to all YA-hate jokes most days. Hell, even I have shit on the series quite a bit (with good reason, I might add!), but it doesn't change the fact that it's a series that we all love to hate. It's our go-to example of what's wrong with YA. It's the poster child of How Not To Write A Romance. I get it and I'm not saying the criticism isn't justified.
There's a lot wrong with it, but have you ever stopped to consider any of its good points? The other day, I was thinking about Twilight randomly and challenged myself to think about positive things about YA's redheaded stepchild. Unfortunately, I came up blank and found one half of my brain mocking the other. So I thought on it a while and decided that there are some things that aren't Completely Awful. Thus, the idea of this post was born.
5. The Movies
Yes, I am well aware that they are terrible, but hear me out. Didn't you laugh your ass off for at least 3 of them? I know I did, especially Breaking Dawn Part 1 and 2.
(This was the point at which I peed myself -Meg)
It's like after Eclipse they secretly set out to change into a parody. I imagine it went something like this:
Executive: Looks, this whole serious approach isn't working for us.
Director: You're right. People can clearly tell we're grasping at at straws and bullshitting them. I can't even film this thing was a straight face.
Executive: Let's change it into a parody and make it so people come see the movies just to have a good laugh at the book's expense.
Director: Genius! Give Billy Burke more lines!
Looking back, I've always enjoyed going to see those movies during the midnight showing because of the die-hard fans' reactions. It provided the perfect cinematic experience. Was it wrong that I went to the movie theater specifically to laugh at other people? Maybe, but the reactions from Breaking Dawn Part 2's ending was so fantastic that I regret nothing!
4. Internet Memes, Youtube Parodies, Etc.
The internet is a beautiful thing, but it really spared nothing, not even the children, for all the Twilight parodies and memes. There are so many, you could literally browse the internet for a week and not have seen them all. It's a thing of beauty. Here are some of my favorites.
Parodies:
The Hillywood Show has some of the best parodies of movies, but I really think they outdid themselves with Breaking Dawn Part 1. So much winning!
The next one needs no explanation. Excessive laughing may happen while watching. "That cake's my most bestest creation. Why'd you eat it?"
Memes:
Gifs: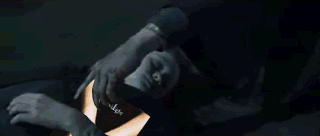 But what I really love was how creative people go with their Cardboard Edwards:
(Don't forget this gloriousness -Meg (again) (don't mind me I'm just elbowing into Steph's post)):
(credit)
(I don't know where this originally came from, I'm sorry)
3. Shirtless Taylor Lautner
I don't know about you guys, but I would totally watch Taylor and the wolf pack run around without their shirts for a solid 2 hours.
I mean, THOSE ABS THO. How many does he even OWN? I'm counting 8.
PLEASE. DO GO ON.
 (*drools* Okay, leaving now -Meg)
2. Awesome Soundtracks
Regardless of how much the movies suck, no one can deny the awesomeness of the music that has come from them. Because of Twilight's ability to truly touch people, several musical artists were inspired to write songs for the soundtracks. In fact, Hayley of Paramore, asked to contribute to Twilight's soundtrack with their song Decode. (Off topic: Man, I miss the good old days of Paramore before Josh and Zac left. SO SAD.)
There's also A Thousand Years by Christina Perri and OH GOD I CRY EVERY TIME I HEAR THAT SONG.
WHAT. I'M NOT CRYING. I JUST HAVE AN OCEAN IN MY EYE.
1. It Got a Lot of People Back into Reading… Including Me
As much as I mock Twilight and criticize it for its problems, I can't deny that it's what got me back into YA books. I've talked about this before and I'm not ashamed to admit this, but I LIKED Twilight before I hated it. I wouldn't go as far and say I was obsessed, but it's like something in me woke up and the next thing I knew, I'd discovered this whole community of readers.
Reading Twilight led me to find Vampire Academy, Daughter of Smoke and Bone, Unearthly and so many others. Truth be told, if I had never decided to sit down on my couch and dive into Stephenie Meyer's novels, I may never even have found Goodreads, met Kat and start this blog. It's a little scary when I think of it like that, but interesting too. From what I hear from others, they have similar stories about about how they found YA. It's almost like Twilight is this gateway drug to all things YA. Sure, it's definitely not the best example of the misunderstood genre, but it's a beginning that holds promises of something even better once you fall into that rabbit hole.
So the next time you see someone mocking Twilight, just remember, we wouldn't have all these Really Awesome, Not Completely Awful Things thanks to its existence. Right, Bella?
(Man, that one facial expression never gets old!)