I received this book for free from Publisher in exchange for an honest review. This does not affect my opinion of the book or the content of my review.
September Girls

by Bennett Madison
Series: Standalone
Published by HarperTeen on May 21st 2010
Pages: 256
Genres: Magical Realism, Paranormal Romance, Young Adult
Format: ARC
Source: Publisher
Amazon・ Good Books・Book Depository
Goodreads

When Sam's dad whisks him and his brother off to a remote beach town for the summer, he's all for it-- at first. Sam soon realizes, though, that this place is anything but ordinary. Time seems to slow down around here, and everywhere he looks, there are beautiful blond girls. Girls who seem inexplicably drawn to him.

Then Sam meets DeeDee, one of the Girls, and she's different from the others. Just as he starts to fall for her, she pulls away, leaving him more confused than ever. He knows that if he's going to get her back, he'll have to uncover the secret of this beach and the girls who live here.
I can't believe I survived. Should I laugh? Cry?
Definitely both.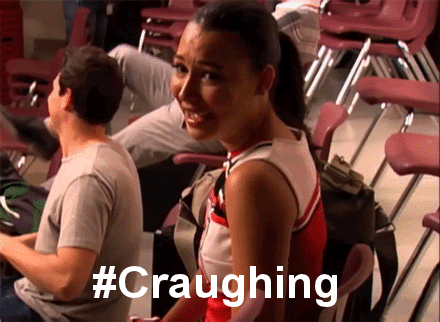 Full disclosure: I went into this book with a suspicion that I might not enjoy it after my bookish twin panned it. But since I requested this book and was sent a paper ARC from the publisher, I thought I'd try to go in with an open mind and try it out.
That was probably not the best decision I've ever made in life.
It goes without saying that this review will be long, contain spoilers and quotes that might possibly make your eyes bleed. RUN WHILE YOU STILL CAN.
There are two reasons why I felt I NEEDED to have this book. (1) Just look at that cover! (2) The blurb made it sound like a fun summer read. On both of those counts I was mislead, but especially when it came to the blurb.  If you think this book has romance, guess again. If you think it will keep you on the edge of your seat, guess again. If you expect this book to be coherent in any fashion, guess again!
What you will get with September Girls is an anti-climatic plot, slut shaming, gendered language, poorly represented feminism and sexism. Oh and penises. Isn't it everything you could have hoped and dreamed for in a mermaid novel?
Terrible Characters:
Okay so the book follows this boy named Sam. His mother has just left him, his brother, Jeff, and his dad for some mysterious placed called Women's Land (more on that in a bit.) Sam's dad quits his job and they journey to this strange beach that is brimming with girls. Not just any girls. Highly sexualized, blond, perky breasted, toned-bottomed, tanned girls. And guess what? They all want Sam. Sam, who slut shames, starting from page 25 where he reminisces about groping a girl's breasts "through her deliberately slutty Alice in Wonderland costume." Sam, you can't feel a girl up and then slut shame her once you've gotten what you want, silly!
Then you have Jeff, who's only care in the world is having sex as much as possible over the summer. He doesn't particularly care who it's with as long as she is hot and preferably drunk. You know, the usual standards.
"Oh, who gives a fuck," Jeff said. "The point is they're hot and they're here. I hope they're already drunk when we get to the party. I hope they are ready for a piece of this." He groped his crotch obnoxiously.
Such an outstanding gentleman. Ladies, don't rush this stud all at once!
Sebastian was a really random character who didn't even have physical presence in the book, but I've decided I hated him slightly more than the others. You see, Sebastian was just full of dating advice for Sam. And when in doubt, Sam would always wonder what his good old buddy would say.
Oh, Sebastian, I'm such a boring character with absolutely no depth or personality and this hottie is talking to me. What should I say?
"Girls like to talk about themselves. If you can't think of anything to say, just ask some dumb question about nothing, and if you're lucky she'll go off and you won't have to say anything else for another ten minutes and she'll think you're a great listener."
He's like a Dr. Phil, I swear. He clearly understands the complexity of the female mind.
But… I think I might be falling  for her even though we've only interacted a few times. I'm thinking about her all the time, but she seems smart and appears to be ignoring me. What now?! Should I go looking for her, find out where she lives, visit her at her work place until she relents?
"Wait, this is all over some girl? Don't be such a fucking vagina, dude! I mean, dude! You go to the beach for a month and you turn into a human tampon!"
What a guy! I just love it when someone uses the name of my genitals to insult someone! For those of you like me with small female minds, that roughly translated as:
Were any of the above quotes supposed think, "Oh hells yeah. These guys sound so authentic. This book is so–" Wait, let me see what the back of the ARC says. Oh yeah, "poetic and punchy, sarcastic and true," says Sara Shepard. Well, damn. Who am I to argue with that logic and quotes that were clearly "sarcastic and true." I suppose I'm just a sensitive little female with no humor bone in her body. In fact, I have no bones. I am made of tampons.
What I really don't understand is why Madison couldn't make any of his characters likable. Having your male characters degrade women with their words at any chance they get isn't authentic. It's insulting to both genders and a disservice to humanity.
Anti-climatic plot:
There were times when September Girls attempted to actually tell a story. The only problem is that almost nothing ever happens. Oh, I lied. Sam does do things. Here is his routine:
-Wake up
-Monologue
-Walk around the beach
-Monologue
-Have women thrown at his feet
-Monologue
-Stare at a Girl's "heart-shaped ass." *raging boner* That slut.
-Monologue
-Come home
-Skip monologue. The Price is Right is on.
-Monologue
-Jerk off
-Ahhhh… sweet self-satisfaction!
-Sleep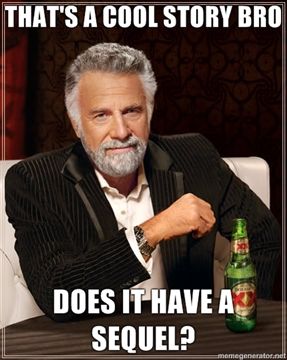 Oh shit, I hope not!
Slut Shaming:
September Girls' biggest problem would have to be the amount of slut shaming and the overall deeming attitude toward women. (And if you are unfamiliar with what slut shaming is, here is a great article at The Book Lantern.) Jeff just looks at them as conquest, something to satisfy his pleasure. Sebastian can't be fucked to show any human decency. And Sam follows after the other two, except he takes it a step further when his brother starts hanging out more with a certain Girl named Kristle:
"He had clearly entangled himself in that dire pussy-web he'd warned me about on our first night here."
That's right, guys! Beware the female "pussy-web." It'll gettcha! What kills me about this is that it isn't assumed that his brother may like Kristle just because she's a person. Instead, they reason that if a guy falls for a girl it is strictly because of what she is offering sexually, therefore, objectifying her.
"And by the way, Kristle's a total slut, so I hope you haven't caught anything from her yet."
Tell us how you really feel, Sam.
"Okay, she's not a slut," I said testily. "Just a skank."
So glad we got that cleared up!
Not only do the men in this novel have a blatant disrespect for women and slut shame, but the Girls do as well. The one Girl who does this the most is one special ray of sunshine named DeeDee. Now, mostly DeeDee just talks a bunch of shit and makes about as much sense as a screen door on a submarine. She was also their resident Ho-olgist. She knew all about dem hos in the bible. Those are her favorite stories. Dem hos. See if you can keep up with the poetry she's spittin':
"I like the parts about hos, even if they always come to a bad end. Eat a fucking apple, you're a ho. Open a box, you're a ho. Some guy looks at you: turn to stone, ho. See you later, ho. It's always the same. The best one is Lilith–also a ho, but a different kind of ho. She went and got her own little thing going, and for that she gets to be an eternal demon queen, lucky her. No one likes a ho. Except when they do, which, obviously, is most of the time. Doesn't make a difference; she always gets hers eventually."
Wut.
"Is that really in the Bible?"

"No. Some of it. Well, the ho with the apple at least."

"I never thought of her as a ho."

"Think again."
The ho… with the apple. I… HUH?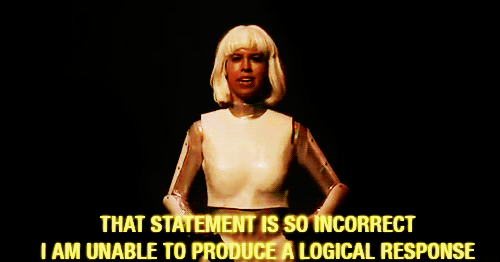 "God," DeeDee said, reaching for an ashtray and stubbing out her cigarette. I couldn't take my eyes off her. "Kristle can be so ridiculous. But who knows what I'd do without her. Total ho, by the way–not that I'm judging; I actually like hos myself. Maybe I am one–I barely know what counts anymore. Being blond certainly never helped anyone's case."
She's probably even got hos in different area codes. I wouldn't put it past her.
Poor Representation of Feminism:
And this is the part that really made me rage. So Sam's mom was a housewife from what I gather from the book. Now the thing is, when you are a parent or mate that stays home, it can be very easy to fall into the rut of *exclusively* taking care of everyone else and forgetting your needs too. Moreover, everyone else in the household might forget. That's why it's so important to find a hobby, get outside the house, do things for yourself for your own sanity and health. There is a scene where Sam and DeeDee are talking about housewives and how she feels being a housewife would be fun because they don't work and they are apparently "free." Sam has a monologue moment where he says "my mother spouted about something called the Feminine Mystique" and he considered it "pure shit."
Then he goes on to say this:
"If you were housewives you could just sit around all day with your feet in footbaths full of Epsom salts."
This is a common misconception of the role of a housewife and it's one of the most under-appreciated jobs a person can ever have. That passage is problematic and further perpetuates the stereotype of a housewife being lazy and doing nothing all day. I REALLY don't appreciate the attempted humor here when in the 1950s, suburban living had a very high rate of suicides among women. (Richard Yates highlighted this a bit in his novel Revolutionary Road. There was also a film adaptation where the DiCaprio/Winslet duo wrecked havoc on my feels yet again!) Managing the home and kids while being separated from society literally drove some women insane. Even in today's world, women who stay at home suffer more emotionally then their working counterparts.
Back in May of 2012, Gallup.com did a survey of over 60,000 US women between the ages of 18-64 and their results were depressing.
Stay-at-home moms also lag behind employed moms in terms of their daily positive emotions: They are less likely to say they smiled or laughed a lot, learned something interesting, and experienced enjoyment and happiness "yesterday." Additionally, they are less likely than employed moms to rate their lives highly enough to be considered "thriving." – Gallup.com
Mothers at home also can have feelings of worthlessness and lack of accomplishment. Many of what they do, volunteering in schools and taking care of the children, goes ignored in our society. I think it was in very poor taste for Madison to use this as joke fodder in his novel. Sam was only one step away from calling her a "bored housewife." At this point nothing should surprise you in this book when it is nothing BUT female stereotypes.
So his mom stayed home to take care of her family until one day she discovered FaceBook. First, she would post things on his FaceBook wall, but then she moved onto Farmville (which I hear is ridiculously addictive). He complains about her always being in the basement on the computer all day playing this game. And when she's not playing, she's always talking about it. But according to Sam, the real problem starts when she makes friends. Because his mother having a life is definitely a major problem! I guess he expected his mother to do his laundry and cook him dinner forever and ever!
"She got all interested in this weird crap that she wouldn't have been able to tell you about before. She's reading all this poetry; she has a Tumblr, although I avoided looking at it. She won't shut up about this thing called the SCUM Manifesto…"
Sounds to me like his mother developed a hobby and found a means to have other human interaction. And hey, that's a good thing!
In the Gallup study, stay-at-home moms found other ways to cope with depression by continuing education, blogging and joining the gym to have some social time with others. – CBS Atlantica
What I also dislike is the reason why she decided to leave her family. Madison had an opportunity to show feminism in a positive light, but he instead showed an extremist. Right after she reads SCUM Manifesto this happens:
"Then one day I'm getting ready for school and she knocks on my door with a bag packed and she tells me she's going to live at something called Women's Land, where no one ever has to talk to men."
Of course. Here is evil feminism breaking up a perfectly good family. I supposed this is just as good a time to reveal my master plan. Ladies, are you ready take over the world, moving all men underground only to be used for breeding, whist women rule the world? Muahahahahahaha!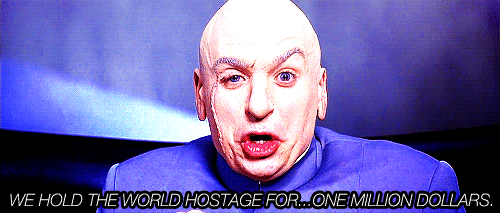 The next section spoils the ending, so click only if you are burning with curiosity or rage. Either will do.
View Spoiler »
"Save us with your Mighty-Joe-Young Penis!"

The Girls are all bound to this little beach by a curse placed on them by their father for… reasons. I didn't really understand why this was, but I think it had something to do with seeking revenge on their mother. BTW, their dad is the Endlessness and their mother is the Deepness. Don't ask me what that means. Anyway, it's really not important.  What's important is this curse because it's the reason for why the Girls are so sexual. The book has sections where the Girls narrate and they describe this "knife" they have. This supposed "knife" is basically good looks. Perky breasts, perfect butt, blond, overall hotness. This is another stereotype I picked up on where women, who approach men instead of waiting for a guy or use their looks to gain things, are looked at as "predators."

But, of course, when the summer ends the Girls go into some weird lethargic state where their hair skin become dull and their faces sullen. No boys, no "knife." So basically this is how I pictured them:




The only way each one of them to break the curse is if they have sex with a virgin boy. And they can't even initiate the encounter. They have to wait for Sam to talk to them first. So let's recap here: Not only do the Girls not have a choice when it comes to breaking the curse (well, they kinda do: break it or die), but it must be done by a male penis swooping in to liberate them. Their sexuality is not their own. It is owned by men.

Excuse me for a moment.


« Hide Spoiler
I mean, goddamn! I really think this book hit on almost every way to demean a women. That is quite a feat considering I never thought I'd read a book that offended me more than Fifty Shades of Grey. Congrats, September Girls! You get the new title of Worst Book I've Ever Read right up there next to Revealing Eden.
If it isn't obvious, this book is terrible and I could never recommend it with a good conscious. But what do I know? Both Kirkus and Publisher's Weekly thought it was brilliant and gave it glowing reviews. Clearly, this is the sign of the end of the world because here's the truth: Reading September Girls was like being swept away by the ocean and drowni–
CLEAR!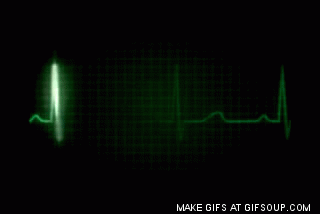 ARC was received via publisher for an honest review. No monies or favors were exchanged, though, I guess that's pretty obvious.
Also, check out Debby's review from The Snuggly Orange for an even bigger aneurysm.