Buzz Worthy News
Cuddlebuggery turns 1, DOJ brings out the big guns and Macmillan finally settles, please say it ain't so with the re-selling of ebooks, ruining classics is apparently IN, huge movie news for Julie Kagawa fans, and controversies round out the week! Come check out all this and more in this week's Buzz Worthy News.
Buzz Worthy News is Cuddlebuggery's weekly news post bringing you all the best information about the book and blogging world, particularly for the venn diagram of people who overlap between the two. For new releases and cover reveals of all the best Young Adult fiction, check out our Sunday post: How New Titles.
---
Amazing Book Blog Turns 1
There's this incredible book blog called Cuddlebuggery, don't know if you've heard of it. Rumour has it that they turn 1 year old this week and are hosting an epic birthday bash. The story of Steph and I meeting and teaming up together to become evil villains is not dissimilar to the story of a T-Rex finding a pair of grabbing claws.
And we want to take the following week to celebrate our epic love affair, treat our amazing readers and commenters, and show off our brand, spanking new site.
Cuddlebuggery's Redesign:
Out with the old and in with the new! Cuddlebuggery has had a facelift from the extremely talented Tawni from Forever Design Studio and we couldn't be more pleased. She put up with our whining, last minute changes and add-ons, bitchin' and our general all-around procrastination.
-Latest Buzz, Hot New Titles and Musers posts can now be accessed directly from the home page under the slider.
-Looking for a recommendation? Check out our cool slider for reviews according to genres.
Tawni took our scatter-brained ideas and created something amazing! We hope you love it as much as we do. <3
And starting today, you have the opportunity to win your choice of a Kobo Touch, Kindle Paperwhite or Nook Simple Touch. Starting tomorrow is a host of guest posts from insanely famous people much more talented than us – each one accompanied by an awesome giveaway.
Also: It's been a whole bloody year!? How on earth did that happen?
---
PUBLISHING
---
Have $10,000 sitting around? You too could be swindled Published!
The laws of supply and demand dictate that where there is a need, there will always be jerks around trying to take advantage. There's a lot of authors desperate to be published and sell there books. There arises a great many services – some legit and many less so – designed to help them. Jerry B. Jenkins has kindly launched his own service.
So, how can Jenkins help you to be published and lighten the load a little where your pockets are concerned?
"To help aspiring writers achieve their publishing dreams, Jenkins is launching Christian Writers Guild Publishing (CWGP). He says it will be different from other custom publishing houses in that it features Published, a six-month course mentored by an experienced author. When students with works-in-progress complete the course, CWGP will publish their books — providing a copy editor, proofreader, cover and type designer, eBook formatter, printer, and a free package of promotion, marketing, and social media materials, everything the writer needs for a successful book launch. "This is different from self-publishing," Jenkins says. "It's mentored, coached, and educated publishing. We come alongside through this course and surround them with seasoned industry professionals."
We're not actually that savvy when it comes to these things, but Writer Beware blog called bullshit pretty firmly. As well as noting that, of the seven mentors listed, only one is a fiction specialist, WBB also made the following observation:
At the end of the course: publishing! Before you get too excited, the services included in the CWGP "Premier" publishing package really don't look much different from the lower-end packages offered by most self-publishing service providers. True, there are some extras–copy editing, a book on social media marketing–but the basics–ISBN assignment, design and formatting, cover art, ebook creation–are standard-issue.
As to the cost of this package?
"According to the Registration page, publishing through CWGP will set you back a cool $9,995. And that's just if your book is 75,000 words or less."
$10,000?! Why don't you just charge a kidney? Jumping juggernauts!
---
Macmillan Finally Settles
Despite SEO John Sargent saying they would never settle, the inevitable has happened. I admire Macmillan's original attempt to hold firm, but when the government brings out the big guns on you, the risks may prove to high.
I had an old fashioned belief that you should not settle if you have done no wrong. As it turns out, that is indeed old fashioned. Our company is not large enough to risk a worst case judgment. In this action the government accused five publishers and Apple of conspiring to raise prices. As each publisher settled, the remaining defendants became responsible not only for their own treble damages, but also possibly for the treble damages of the settling publishers (minus what they settled for). A few weeks ago I got an estimate of the maximum possible damage figure. I cannot share the breathtaking amount with you, but it was much more than the entire equity of our company. I like to believe that we would win at trial. But outcomes are hard to predict with certainty, particularly in a civil case with a low burden of proof. And so we agreed to settle with no admission of guilt. As with the other settling publishers, retailers will now be able to discount Macmillan e-books for a limited time. This change will take effect quickly.
So what are the DOJ's terms?
Macmillan will immediately lift restrictions it has imposed on discounting and other promotions by e-book retailers and will be prohibited until December 2014 from entering into new agreements with similar restrictions. The proposed settlement agreement also will impose a strong antitrust compliance program on Macmillan, including requirements that it provide advance notification to the department of any e-book ventures it plans to undertake jointly with other publishers and regularly report to the department on any communications it has with other publishers. Also for five years, Macmillan will be forbidden from agreeing to any kind of most favored nation (MFN) provision that could undermine the effectiveness of the settlement.
---
Selling Used eBooks a Future Possibility?
Looks like Amazon truly is going to be taking over the publishing world. As if settling for ebook prices wasn't enough, publishers may very well see readers selling their used ebooks as well. Amazon has acquired a patent for an electronic marketplace for used digital items:
Amazon's patent for a technology that would let customers sell their previously read eBooks, audiobooks, music and movies the same way that consumers can now sell print books, DVDs and CDs, has been approved. A seller could put their previously owned Kindle title up for sale and another user could purchase the title, which would then remove the title from the seller's library.
Personally, I'm not really seeing how this makes any sense. Why would anyone buy a new ebook again? I'm all for consumers finding the best deal possible, but this has the potential to really hurt an author's sales. Which if that's any indication, isn't a good thing. So congrats, Amazon! You appear to be the catalyst for the publishing apocalypse.
---
A Scoop of Awesome to Brighten the Day
First Book, a non-profit organization that provides new books to children in need, has done something pretty awesome. They're planning to spend $500,000 on new books featuring minorities and diverse stories for children. This is the first I've heard of this organization, but I am impressed with their efforts to show kids stories that may reflect their own cultures.
[CEO Kyle] Zimmer stressed that her team is moving fast; the offer went out to major publishers today, and First Book intends to have proposals secured within a week…The hundreds of thousands of books First Book plans to purchase through the OMG Books program will be available through the First Book Marketplace, a website offering deeply discounted books and educational materials exclusively to schools and programs serving kids in need.
I can't think of a better way to spend $500,000!
---
BOOKS
---
DC Provides Me Yet Another Excuse to Read Marvel. Every Time.
I'm always really sad when I see news about Orson Scott Card these days. I loved his work so much as a kid, yet his nonsensical homophobic rants and hate-ivism against equal protection and treatment for all people is more than a little sad and infuriating.
So imagine my non surprise when DC hired him to pen a new series for my least favourite Superhero: Superman. Well. Not absolute least favourite. There's always Aquaman and Mr Fantastic for that.
Reasons to read Marvel instead of DC:
1. Marvel is better.
2. Marvel has Deadpool.
3. YOU NEED ANY OTHER REASON THAN DEADPOOL?
4. Superman kind of sucks. Sorry. Trufax.
"Unfortunately, for DC Comics, Card is a well-known homophobe and anti-gay activist who in 2008 called for the overthrow of government if Prop 8 fails.

If you want a good sample of his writings on gays, check out this column entitled Homosexual "Marriage" and Civilization."
This is a really tragic misstep by DC who had been actively trying to catch up to the coolness that is Marvel and has revealed a couple of superheroes to be gay. Nice way to through that modicum of progress out the window, guys.
Seriously, Card. Go back to penning scenes where boys wrestle naked in the shower. It's what you're best at.
---
Lauren DeStefano has Revealed her "Super Secret Project"
Okay, I won't lie. This news makes me happy! It's no secret to the world that I love Lauren and her books, so when I first heard she was sitting on news of a secret story, I was super duper excited. The Internment Chronicles, a Utopian series (YES!), is set to debut with the first book entitles, Perfect Ruin, February 11, 2014. Guys. THAT IS EXACTLY ONE YEAR FROM TODAY. *breathe*
Know that I am trying to contain my fangirl. It is difficult.
On Internment, the floating island in the clouds where 15-year-old Morgan Stockhour lives, getting too close to the edge can lead to madness. Even though Morgan's older brother, Lex, was a Jumper, Morgan vows never to end up like him. She tries her best not to mind that her life is orderly and boring, and if she ever wonders about the ground, and why it is forbidden, she takes solace in best friend Pen and her betrothed, Basil.

Then a murder, the first in a generation, rocks the city. With whispers swirling and fear on the wind, Morgan can no longer stop herself from investigating, especially when she meets Judas. He is the boy being blamed for the murder — betrothed to the victim — but Morgan is convinced of his innocence. Secrets lay at the heart of Internment, but nothing can prepare Morgan for what she will find — or who she will lose.
---
Why Must they Ruin the Classics?
What did Anne of Green Gables ever do to a blonde, pin-up, farmer girl? And why is she on the new covers of the book? These are the questions my brain struggled to ask itself while I attempted to pick my jaw off the floor. Thankfully, the offending drivel has been withdrawn. But, still, what were they thinking?
The CreateSpace edition is now listed as "temporarily out of stock", with the cover photo withdrawn – although it can still be seen here . Readers appear to have banded together to complain about Anne's new look, urging each other to contact Amazon and CreateSpace over the character's misrepresentation.
And of course this ridiculous incident wouldn't be complete without a few LOLs via Amazon reviews:
Many of the new edition's five-star reviews were also tongue in cheek."Elena M" wrote: "For those of you who have not read this series, I will give you a summary: Anne is a young red-headed orphan sent to live on a farm on Prince Edward Island. Unfortunately the adoptive family wanted a boy but she does her best to fit in and warm their hearts. However, after coping with her feelings of abandonment and insecurity, getting her best friend drunk, getting teased by a boy in school, and losing the only real father figure she's ever known, she dyes her hair blonde, dons a plaid shirt and becomes the town whore of Avonlea."
---
Welcome to Being Patronized. If you have a vagina, you should be used to it.
The 50th Anniversary of Plath's critically acclaimed semi-autobiographical novel is up. What better way to celebrate than with a fancy new cover that defeats the purpose of the book.
Jezebel fairly ripped the covers to shreds. In the most delightful way of course, as is their style.
"For a book all about a woman's clinical depression that's exacerbated by the suffocating gender stereotypes of which she's expected to adhere and the limited life choices she has as a woman, it's pretty … stupid to feature a low-rent retro wannabe pinup applying makeup."
Ouch! Faber, want to apply some cold water to that burn? Well, you can't have it. Go back and try again.
Not everyone was as critical of the cover though.
Feminist writer Naomi Wolf weighed in to back the publishers, telling the Guardian: "I see nothing wrong with this – except perhaps that some young women seeking a lightweight beach read might get unexpectedly very depressed."
I see Naomi's point. It's very possible that to many people, this is no big deal. But, in my eyes, it's the continuation of a disturbing trend in which books by women, for women, are given these patronizing covers. As if the only way a woman would read Plath is if it's got a pretty, chic woman on it.
But, hey, don't mind me. All that feminine complaining doesn't amount to much, does it guys? We're just being hysterical and ridiculous.
---
ENTERTAINMENT
---
Hollywood has Finally Discovered Julie Kagawa's Brilliance
Don't you just love it when you are blasted with double awesome news, like say for instance, a brand spanking new series from Julie and a movie deal? We always knew Julie was awesomesauce. It's about time Hollywood wised up. The even cooler part of this news? It's set to be produced by Chris Morgan. You may have heard of him and his little collection of films: The Fast & the Furious. Basically, this is amazing news for Julie Kagawa!
The supernatural story is set in a present-day coastal town where mythical creatures hide amongst us cloaked as humans. Slayers belonging to an order that dates back to St. George infiltrate the town disguised as out-of-town kids, setting up a confrontation and, as is the case with YA books, a love triangle.

The 104-page proposal was described as strong in execution. The deal went down late Thursday.

Harlequin TEEN– in a seven-figure, five-book deal — picked up book rights in January for its young-adult imprint. The first book is to be released in 2015.
W-O-W. First off, seven figures?! Congrats, Julie! But more importantly, five-book deal?!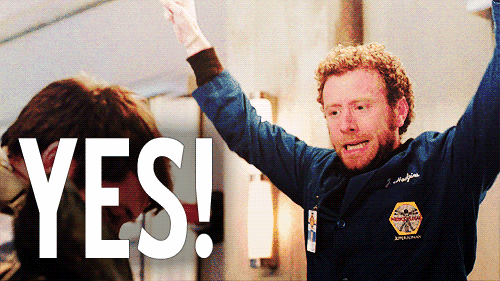 ---
Delirium Casting
The role of Lena from Lauren Oliver's bestselling series, Delirium, has been selected as Emma Roberts.
Emma Roberts has been tapped as the lead of Delirium, Fox's drama pilot from Karyn Usher, 20th TV and Chernin Entertainment. Based on Lauren Oliver's bestselling book trilogy about a world where love is deemed illegal and can be eradicated with a special procedure. With 95 days to go until her scheduled treatment, Lena Holoway (Roberts) does the unthinkable: she falls in love. Usher executive produces the pilot with Peter Chernin, Katherine Pope and Paula Mazur.
I'm sort of indifferent at this point. Not to mention it's been a while since I've read Delirium, so I can't really say if she fits the character or not. But I know that Kat really likes this series, so there's that. How do you guys feel about the casting?
---
The Book Thief Casting
This may surprise you to know that I have never read The Book Thief. *shock* *horror* *gasp* I suppose I should do that sometime before I whisk myself off to the theatre. And now that they've announce that Emily Watson (Anna Karenina) will be in it, I'm pretty intrigued.
Geoffrey Rush and Emily Watson are set to topline Fox 2000's adaptation of Markus Zusak's best-selling novel The Book Thief.

French-Canadian actress Sophie Nelisse, who appeared inMonsieur Lahzar, will make her English-language debut as the title character in the World War II drama being directed by Brian Percival (Downton Abbey).

Ben Schnetzer (Happy Town) and Nico Liersch also are cast in the screen translation of the novel, which spent more than 280 weeks on best-seller charts.
---
CONTROVERSY
---
You Mess With the Scalzi, You're Gunna Get…the Scalzi.
So remember how, amidst the height of ridiculous rape and abortion comments by Republican senators, John Scalzi wrote this bitchin' blogpost from the point of view of a rapist.
As a result a troll has been attacking him, doing the whole song and dance that trolls are so unfortunately disposed to do.
"John Scalzi is the author of several books, including the Old Man's War series and Redshirts, published in the States by Tor and the UK by Gollancz. He's also the president of the Science Fiction and Fantasy Writers of America. Fed up of being constantly targeted on his website by one particular individual and his followers, Scalzi decided to take action, pledging US$5 every time "the Racist Sexist Homophobic Dipshit in question posts an entry on his site in which he uses my name (or one of his adorable nicknames for me)"."
Okay – Awesome revenge! But that isn't when the badass begins. The badass begins when other authors and Scalzi fans started getting into the action.
"A novel enough way to tackle the trolls, for sure, but what happened next was somewhat astonishing: Scalzi's friends, Twitter followers and readers asked if they could jump in with pledges too. Many of his friends are high-profile authors and industry types – Will Wheaton, the actor who played Wesley Crusher in TV's Star Trek: The Next Generation, and a writer in his own right, was one of many who promised to match Scalzi's US$1,000 pledge.

By the early hours of this morning, UK time, the pledges for Scalzi's chosen charities had grown to US$50,000."
I love your style, Scalzi. Love your style!
---
Perfectly reasonable review attract rabid, dumbass author attack. The world makes sense again.
As always, the response to a perfectly respectable and well-written review is to freak the hell out and make a fool of yourself. At least if you're this author.
I'm just going to leave a few of his best quotes here for everyone to fulfill their daily dose of stupidity.
"She must be the neighbor who is exactly like the villain in the novel Bulla, she sounds just like her, horrid. Notice no picture, a too long review plus the distortion of the facts. The ending was a form of Murder that was never written about before. How was that predictable?"
Of course, comparing someone who didn't like your book to some villain isn't at all a bowl full of CrazyBalls.
"You did not read the book. If you did you would not writing your nonsense. Everyone agrees with me that perhaps you should seek medical attention. Your remarks were so off base and the damage they cause, are sinful. Please honey get some help. I notice your other reviews and many authors that you gave two and one stars review too did not deserve it and in my mind was criminal. Now with your rebuttal proves my point. The book is a work of art and will stand for all time. The Author William Terry Rutherford."
Didya hear that? EVERYONE agrees with him. All his imaginary friends, that is.
Of course, he finishes up his slippery slide down to Failtown with a Wikipedia definition of bullying, accuses the reviewer who has been unfailingly polite and reasonable of being a bully and possible catalyst for the implosion of society and struts off into the sunset. An average day indeed.