Revolution 19

by Gregg Rosenblum
Series: Standalone
Published by HarperTeen on 8th January 2013
Pages: 272
Genres: Post Apocalyptic, Sci-Fi, Young Adult
Format: Paperback
Source: Publisher
Amazon・ Good Books・Book Depository
Goodreads

Twenty years ago, the robots designed to fight our wars abandoned the battlefields. Then they turned their weapons on us.

Only a few escaped the robot revolution of 2071. Kevin, Nick, and Cass are lucky —they live with their parents in a secret human community in the woods. Then their village is detected and wiped out. Hopeful that other survivors have been captured by bots, the teens risk everything to save the only people they have left in the world—by infiltrating a city controlled by their greatest enemies.

Revolution 19 is a cinematic thriller unlike anything else. With a dynamic cast of characters, this surefire blockbuster has everything teen readers want—action, drama, mystery, and romance. Written by debut novelist Gregg Rosenblum, this gripping story shouldn't be missed.
I feel like I'm in a slump right now. I've been craving some sci-fi, but they last two books have done less than impress me. What is going on? What do I have to do, start lowering my standards? Is it too hard to ask for a dynamic cast of characters, action, drama, mystery and romance?! Oh…wait. Didn't this book promise me that? Huh. Well, let's get one thing out the way right now. That blurb is misleading.
But before we get into all that, I want to take you on a flashback. Yes, a flashback. Back to yester-year…
I don't know why, but I have this soft spot for robots. Perhaps even more than the average person should. Every time I see a book or TV show about them, I have this strong uncontrollable urge to read/watch it. Now, a few years back, there was this show that came on FOX called The Sarah Conner Chronicles that showed John Conner's life as a teen on the run with his mom. I faithfully DVR'd it every week. I thought it was gripping and amazing. Though, clearly my opinion mattered very little because the show was eventually moved to Friday night – which is the kiss of death in TV land – and then, later cancelled. I was pretty bummed out about it. I mean, why do they cancel all the good shows? WHY?
*ahem*
Right, so about Revolution 19, because I'm betting you didn't click this review to find out my life story and robots (or did you?). Believe it or not, the above paragraph had a point. The point being, when I heard about Revolution 19 I knew I had to have it. I was SO excited and hoped that I could somehow fill the void in my robotic heart that FOX left in my chest like a leaking hole of utter despair. But I was failed again! A-a-and the hole just keeps getting bigger with every awful YA sci-fi book I read until I feel like it's just gonna swallow me whole and I can't breathe and I'm sitting in a corner, singing a Justin Timberlake song, crying a river and, and, and…. oh dear. It's like I've become the Anti-Steph: Bella Swan. I've become emotionally compromised. Quick! Someone get Spock!
Long story short, Revolution 19 disappointed me for three very good reasons.
The Characters:
So the blurb says, "With a dynamic cast of characters…" Okay, yeah. Let's go with that and pretend that was the case here. Maybe, just maybe this book could have gotten 2 stars from me if I cared about one character. But the truth of the matter is that none were developed enough. Ever heard of the phrase 'one track mind'? That's similar to how I found these characters. They were all 'one track-traited'. The three protagonists are each given basic traits that they embody throughout the novel. Kevin (13) likes technology, Cass (15) is athletic and Nick (17) is brave/stubborn/fearless/determined/stupid?
That's all we know about these characters and it seemed that was all they knew about themselves too. Take, for example, Kevin. Everything was going to shit and all he could think about at times was, "Oh! Is that a 3D TV? Check out the resolution on this!" He did this every time and new, shiny piece of equipment was introduced like clockwork. Nick chose any and every opportunity to do something stupid at the personal risk of people trying to help him. He displays a blatant disrespect for the family that takes him and his siblings in by sneaking out and disobeying their rules of remaining hidden from the robots. But he's labeled as being brave. Is he remorseful for the trouble he causes them? Not in the slightest because he does it over and over again. I have a feeling that this novel was extended thanks to the sheer stupidity of most of his decisions. Don't get me wrong, I expect a certain level of mistakes being made by a teen cast (or any cast of characters for that matter), but I also expect common sense to be utilized.
And then there is Cass, whose role I'm not entirely convinced was needed besides Rosenblum throwing an athletic girl into the story just to say, "Hey, look! Progression!" Great. She can run. But, of course, she gets subtly sexually harassed by two characters, one of whom throws so many sexual innuendos at her, that she later ends up liking. Of course. The other one really disturbed me: The kids find some guy living in the woods, who stares at Cass the entire time, licking his lips. She folds her arms over her chest and the narrative alludes to her being uncomfortable. Who wouldn't? That was the book's first biggest strike for me. Some dystopian/post-apocalyptic novels do this thing that irritates me:
Female character + sexual harassment (minor or on larger scale) = LOOK HOW BAD MY WORLD IS!
I just do not like how female characters are used like that. And one could argue that her role will be larger in book two (based on the ending), but it just feels like a convenient way to include her into the story line. Or better yet, move the plot along when it's clear her role serves no other purpose.
The supporting cast only serve to provide a way out to the main characters. Every time they get in trouble we are then introduced to another character that has just the skill set needed to get them out of the fix they're in. They have no substance, especially Lexie, who claims she risks her life for them because she is bored and is looking for some fun. -_- Right.
Furthermore, there is no romance. A couple of smiles dispersed throughout the novel and two kisses made of random, do not equal romance.
The Writing:
Definitely not my cup of tea. I like my narrative with a little more depth and complexity than Revolution 19 offered. Have you ever read a movie script before? That's how this book reads. It's very fast paced and not in the sense that things are just happening rather quick. It's more of an issue of things not being properly explained, giving off an over all rushed feeling. Though this should not surprise me since Revolution 19 was planned from the beginning to be both a YA series and film. And in that respect, I could see this working well on-screen with good actors, but it didn't translate well in book form. For example, there is virtually no world building and it feels like the author is heavily relying on the reader's knowledge of The Terminator to build his story. There is a brief prologue saying robots took over world and that's pretty much all you get. Let me not forget the weird slang/terminology of the time period that seemed entirely forced and distracting.
The Robots:
I knew going into this book that the author and company was pulling heavily on The Terminator to create this story. And I was okay with that because in my mind I got to see scary robots destroying things, chasing little humans around. Not unreasonable, right? Well imagine my surprise when robots are described as having  flat and featureless faces except for rectangular openings for their eyes. Oh and did I mention they roll? So basically, the world has been taken over by a bunch of Wall-es, huh?
Oh, whoops! They are also 8ft tall. So the more accurate depiction would be Number 5 from Short Circuit.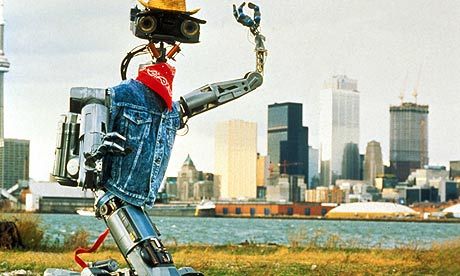 Awesome. Mankind gets enslaved by evil robots, whose true crime will be reminding us forevermore of bad 80's movies. The world is so screwed. (Okay, so I totally loved that movie, but that is besides the point, people!)
I mean, is that even remotely scary? The other 'bots' are no better as just pieces of metal that hovers. But the thing that gets me, is that the robots take themselves so seriously that they TALK IN ALL CAPS. All the while, I'm thinking why are humans afraid of these robots? Oh, right. Their "lasers". *snort* You remember that moment in Toy Story where Woody is chewing out Buzz at the gas station? Well, every time one of those 'bots' came rolling around I'm like: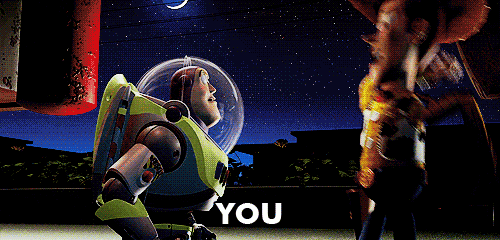 Random Thing that Has Nothing to do With the Story, but Still Annoyed Me:
Why is the cover model a girl? (Yes, it's a girl as she is wearing eyeliner, eye shadow and mascara on the cover.) In the novel, it's Nick that has the robotic eye and I'm pretty sure he is of Y chromosome variety. Cover, y u lie 2 meh?
In conclusion, I'm sad this didn't do much for me and I can't say I'd really recommend it to anyone either. When it all boiled down to it, Revolution 19 is a lackluster novel with a premise that had potential, but instead yielded a boring plot, boring cast of characters and equally boring robots. I will have to continue on my search for fabulous YA Sci-Fi reads. Unfortunately, this was not one of them.
ARC was provided by the publisher for an honest review.