Changes at Cuddlebuggery?! Oh no, say it ain't so!  Now, now. Not to worry. We still intend to take over the world one blog post at a time, but we are changing things up for the better. They are exciting! They are cool! They may just change your LIFE! Okay, well, maybe not that last one, but we do hope you'll like them. 😀
Commenting
If you haven't already noticed we are no longer using the standard WordPress comment system. Instead, we have opted for LiveFyre. The goal is for this to help make commenting faster and easier for everyone as well as take a load off our server. So no more refreshing the page to see new comments! YAY! And you can "like" comments! Double YAY! If you have any trouble with the new commenting system, please let us know.
Hot New Titles Goes POOF!
Well, not literally, but pretty much. Hot New Titles is being switched up. Instead of it appearing as a post on Fridays, cover reveals will now be done on our Facebook page and new releases will be tweeted. This will give us a whole other day to post reviews, shenanigans, or cause all around mischief. So if you aren't following us on Facebook and Twitter (hint, hint), now is an excellent time to repent. Heh.
Stalk Us in More Ways than One
Okay, so this one is pretty cool and exciting. Kat, Archer and I ARE NOW ON TUMBLR.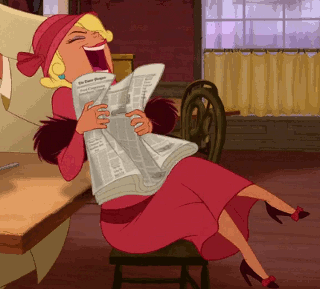 I KNOW, RIGHT?! 
Our Tumblr blog will be managed by Archer and will feature all our posts, cover reveals, new releases and general fun things, sometimes bookish and sometimes not so bookish. So, not only can we be found on Facebook, Twitter, Pinterest and Formspring, but Tumblr too! Don't be shy. Come and chat with us. I promise we don't bite… much.
Love these changes? AWESOME.
Hate these changes so much you hope our living room floors are filled with thousands of tiny lego pieces? Feel free to send us a howler.
Totally acceptable.
Or, ya know, let us know in the comments. 😉