I received this book for free from NetGalley in exchange for an honest review. This does not affect my opinion of the book or the content of my review.
Wanderlove

by Kirsten Hubbard
Series: Standalone
Published by Delacorte Books for Young Readers on March 13th 2012
Pages: 338
Genres: Contemporary, Young Adult
Format: eARC
Source: NetGalley
Amazon・ Good Books・Book Depository
Goodreads

It all begins with a stupid question:

Are you a Global Vagabond?

No, but 18-year-old Bria Sandoval wants to be. In a quest for independence, her neglected art, and no-strings-attached hookups, she signs up for a guided tour of Central America—the wrong one. Middle-aged tourists with fanny packs are hardly the key to self-rediscovery. When Bria meets Rowan, devoted backpacker and dive instructor, and his outspokenly humanitarian sister Starling, she seizes the chance to ditch her group and join them off the beaten path.

Bria's a good girl trying to go bad. Rowan's a bad boy trying to stay good. As they travel across a panorama of Mayan villages, remote Belizean islands, and hostels plagued with jungle beasties, they discover what they've got in common: both seek to leave behind the old versions of themselves. And the secret to escaping the past, Rowan's found, is to keep moving forward.

But Bria comes to realize she can't run forever, no matter what Rowan says. If she ever wants the courage to fall for someone worthwhile, she has to start looking back.

Kirsten Hubbard lends her artistry to this ultimate backpacker novel, weaving her drawings into the text. Her career as a travel writer and her experiences as a real-life vagabond backpacking Central America are deeply seeded in this inspiring story.
Contemporary is not a genre I usually read. It's not because I think any less of the genre, but few seem to hold my attention as well as something supernatural or science fiction related. What normally happens is that I'll get distracted and find myself re-reading the same sentence or paragraph over and over again. That never happened with Wanderlove. Unfortunately, lately I've been finding it increasingly difficult for me to find time throughout my day to sit and read. And I felt myself getting angry for not having more time to finish this book. But, in a way I'm kind of happy I read it as slowly as I did because I savored every minute alone with Wanderlove. This book was so amazing, so deep, so beautiful and I'm very happy I stepped outside of my comfort box to read it.
Wanderlove tells the story of Bria Sandoval, an 18-year-old, newly graduated, high school student, as she travels to Central America. At first we aren't told why she decided to take this trip, but what is clear is that she has given up her art and despite her friends backing out of the planned trip at the last minute, she decides to go alone. It isn't until she begins journeying with backpackers Rowan and Starling that we are privy to Bria's layers. It is then that we, and Bria herself, discover how truly broken she is. This book covers a myriad of topics such as emotional abusive relationships, letting go of the past, forgiving yourself, gaining self-confidence, but ultimately, self-discovery.
The Setting and the Plot:
I'm not in any shape or form a travel savvy person. In fact, the closest I've ever come to leaving the country was a family vacation where we drove to Canada's Niagara Falls in an RV. I've thought about traveling to different countries, but I often run into to same problem: How will I get there? Going anywhere would require either a plane ride or traveling on a boat. Considering my first experience with a plane involved watching a lightning storm over the Chesapeake Bay, I'm not exactly rushing to my airport. Yet, when I think of sailing on a boat I can't help but to think of this: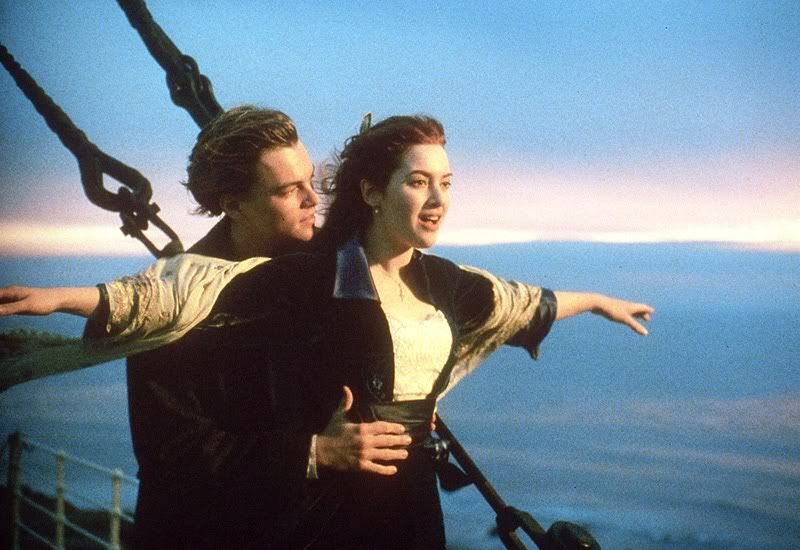 *Gives reader a meaningful look* And we all know what happened after that scene…
I think it's safe to say I'm no Global Vagabond. Regardless of my unrealistic travel fears, I love hearing travel stories. Kirsten Hubbard's careful descriptions of Central America were vivid, easy to visualize and allowed me the ability to live vicariously through Bria. I could picture the Mayan culture, the jungle, the heat, the rides on the chicken buses, and the bluest waters. From the moment Bria stepped off her plane I could picture it all.
I really loved how the setting went hand in hand with the plot. When Bria first arrives in Central America, she is immediately disappointed in her tour group. Everything is planned out for her from the group's activities to the food they eat. Once an opportunity to ditch them arises, at first she is apprehensive, but she wants to prove herself to all her doubters back at home that she can do this. Each new location she visits brings back flashbacks from her past describing her reasons for giving up her art and going on this trip. I didn't realize how engrossed I was with the story until the climax hit and I felt my heart miss a beat. It was easily the best scene for me because it made me incredibly happy and then immensely sad shortly after. Those two extreme emotions back to back nearly did me in. I hope Hubbard is happy… secretly I think that was all a part of her plan. Well done!
The Characters:
The true treat for the reader lies with the beautiful drawings found scattered throughout the story all drawn by Hubbard herself. It was interesting because not only does the reader see Bria's character growth through her narration and actions, but also through her art. At first, they start off very delicate-like as Bria begins the journey. But, as the trip wears on, you can see the art changing, evolving into more complex drawings with more time spent on shadowing techniques and other details. Bria goes from uncertain to a confident renewed person by the end of the novel. You can't help but to feel sorry for. Yet, at the end I felt proud of her. She's the type of character you want young girls to read about and learn from.
Rowan, the love interest, too was a lost broken character. Throughout most of the novel he retains his philosophy of Wanderlove, which basically entailed running from your past. And Rowan definitely has a darker past he constantly tries to avoid. There was a certain sweetness to watching Rowan and Bria's friendship blossom. Hubbard took her time developing it. There was nothing rushed about their relationship because as they fall for one another, they healed each other as well.
Starling was an interesting character. Though she leaves Rowan and Bria early on in the story, she maintains a certain presence too. I can't really talk too much about her character without giving away spoilers, but she was a crafty one.
The ending:
The ending was so very fitting. I love how things are tied up, yet remains open at the same time. One thing you are sure of is that Bria has emerged a new person ready to move forward with her life and finally shed herself of past issues. I was sad when it ended and I have a pretty good feeling I'll be revisiting this book soon again.
Between the witty writing, beautiful illustrations, and deep messages Wanderlove is not to be missed in 2012.
ARC was provided by the publisher via NetGalley. No money or merchandise was exchanged for this review. Kirsten Hubbard is a GoodReads friend of mine, but you can count on these being my absolute, honest views of the book!