Seraphina

by Rachel Hartman
Series: Seraphina #1
Published by Random House Books for Young Readers on July 10th 2012
Pages: 451
Genres: High Fantasy, Young Adult
Format: Hardcover
Source: NetGalley
Amazon・ Good Books・Book Depository
Goodreads

Four decades of peace have done little to ease the mistrust between humans and dragons in the kingdom of Goredd. Folding themselves into human shape, dragons attend court as ambassadors, and lend their rational, mathematical minds to universities as scholars and teachers. As the treaty's anniversary draws near, however, tensions are high.

Seraphina Dombegh has reason to fear both sides. An unusually gifted musician, she joins the court just as a member of the royal family is murdered—in suspiciously draconian fashion. Seraphina is drawn into the investigation, partnering with the captain of the Queen's Guard, the dangerously perceptive Prince Lucian Kiggs. While they begin to uncover hints of a sinister plot to destroy the peace, Seraphina struggles to protect her own secret, the secret behind her musical gift, one so terrible that its discovery could mean her very life.

In her exquisitely written fantasy debut, Rachel Hartman creates a rich, complex, and utterly original world. Seraphina's tortuous journey to self-acceptance is one readers will remember long after they've turned the final page.
Oh yes, Rachel Hartman. YES!
This.was.good.
I usually don't pick up many high fantasy novels. For example, I hate Lord of the Rings. Don't flame me! It's just that it's not usually a genre I mesh well with. In fact, I think aside from Seraphina I have read a grand total of two high fantasy books this year: Eon: Dragoneye Reborn and Eona: The Last Dragoneye. Coincidentally, all three have dragons in them. Hmm…perhaps the universe is trying to tell me something there.
Dragons?! Yes, dragons. I know what you're probably thinking. So, let me help you.


Who's a good boy, Toothless? I could watch him chase that little light all day. But, no, not those kinds of dragons.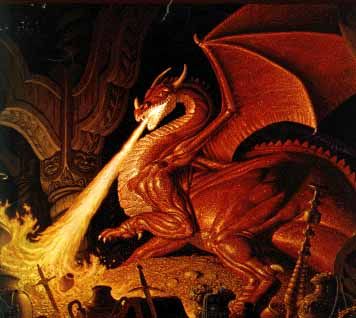 Burn, baby, burn. Now, that's more like it.
Sixteen-year-old Seraphina Dombegh lives in a world where dragons have the ability to transform their bodies into humans and walk amongst mankind. Previously, dragons and humans have warred against one another, but for forty years there has been strained peace thanks to a treaty. The time arrives for the peace treaty to once again be signed and a member of the royal family has been found murdered. What's even more interesting is that it appears to be the work of a dragon. With Treaty Day swiftly approaching, Seraphina finds herself in the midst of the investigation, assisting Prince Lucian Kiggs in discovering the murderer, all the while trying desperately to hide her own secret: being half dragon.
A few things I LOVED about Seraphina:
The World Building:
I really have to commend Hartman because this is a brilliant debut and I feel very fortunate to have read it months before the release. She has created a very believable society and I can just imagine all the research she put into this crafting the religion, clothing, races, philosophers, customs, ect. Initially, when I first started I felt a bit overwhelmed because of the names and culture. It's just that rich. But once I got into the story, I was just amazed at how well constructed the world building was.
The Characters:
I have to say, I was not once irritated at the main character, Seraphina (BTW: awesome name!). She is very headstrong and determined. When she first discovers a plot to disrupt the peace, she does not hesitate to get to the bottom of things even if that means doing things herself. This, of course, is her strength and her weakness. Having to hide her secret her whole life has left her unable to trust easily. This directly impacts her relationship with her partner in the investigation, Prince Lucian Kiggs. But as the novel wears on, we see a growth in Seraphina and her ability to trust and rely on her friends.
My favorite character has to be a toss-up between Princess Glisselda and Orma. For secondary characters, I felt they were very well developed throughout the novel. It's kind of ironic that they would come to be my favorites since in the beginning I didn't really care for either one. They possessed qualities (or at least I thought they did) that I found ugly (rudeness, apathetic, tactless, and uncaring). I suppose this is just another cool point for Hartman's writing style and character development for changing my mind completely before the novel's end.
The Plot and The Pacing:
Simply brilliant. The best way I can describe it would be to say it's like a cross between Sherlock Holmes and dragon lore fantasy. I found the novel's length to be perfect for the pacing, giving just the right amount of time for relationships to develop, the mystery to be solved, and ending realistically.
The Ending:
Very well done! I never saw the ending coming and was left completely satisfied with it. There are some series where the installments feel more like a part one or part two of a story, but then there are others like Seraphina that could stand alone just fine. While I know Seraphina's journey is not yet over, the immediate threat in the novel is resolved. I really appreciated that. This novel speaks for itself and doesn't need to rely on a cliffhanger to keep a reader interested in a sequel.
Seraphina is definitely a book you should look out for in 2012. I, for one, cannot wait for the sequel!
Disclaimer: An ARC was provided by the publisher for reviewing purposes and while Rachel Hartman is a GoodReads friend of mine, these are my honest thoughts on the book.