Twilight: The Graphic Novel, Vol. 2

by Stephenie Meyer, Young Kim
Series: Twilight: The Graphic Novel #2
Published by Yen Press on March 16th 2010
Pages: 240
Genres: Paranormal Romance, Young Adult
Format: Hardcover
Source: Library
Amazon・ Good Books・Book Depository
Goodreads

Having uncovered the dark secret of her enigmatic classmate, Edward Cullen, Bella Swan embraces her feelings for him, trusting Edward to keep her safe despite the risks. When a rival clan of vampires makes its way into Forks, though, the danger to Bella has never been more real. Will she make the ultimate sacrifice to protect the people dearest to her?
Ah, Twilight. It seems like everywhere you turn, you can't escape it. The books are everywhere, the franchise has 5 motion pictures, a make-up line, clothing, and now graphic novels. What's next? Toilet paper?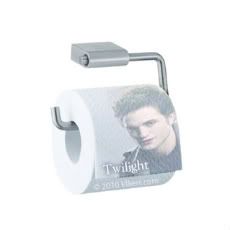 Oh, c'mon. Who wouldn't want to wipe their ass with Edward Cullen's face? The only question is: will it leave a trail of sparkles?
So, those three stars you see? Not for the story, but for the artwork. If you want to know what I thought of Twilight…lol…well, you can check out my review here.
BUT I'm going to go ahead and give credit for where it's due: The artwork is stunning.
Kim Young did an awesome job bringing the characters to life. Most of the pages are in high gloss, black and white, some consisting of a few colors splashed here and there: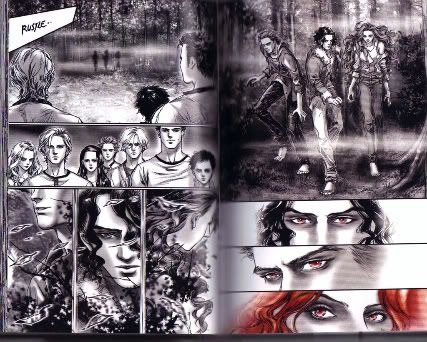 And when you get to the end the last few pages are full color. They are very beautiful!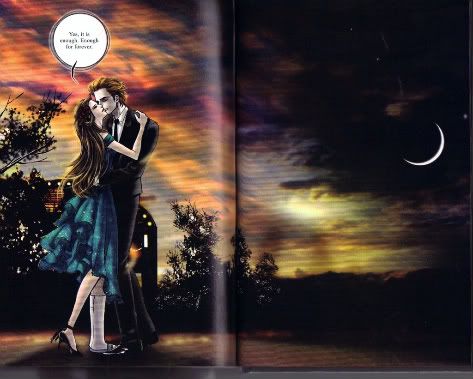 Ok…That's pretty much all the praise I can force out of my body for anything related to Twilight.
You can check out a little bonus at my GoodReads review. 😉