This book may be unsuitable for people under 17 years of age due to its use of sexual content, drug and alcohol use, and/or violence.
Fifty Shades of Grey

by E.L. James
Series: Fifty Shades #1
Published by Vintage on April 3rd 2012
Pages: 514
Genres: Adult, Romance
Format: eBook
Source: Purchased
Amazon・ Good Books・Book Depository
Goodreads

When literature student Anastasia Steele goes to interview young entrepreneur Christian Grey, she encounters a man who is beautiful, brilliant, and intimidating. The unworldly, innocent Ana is startled to realize she wants this man and, despite his enigmatic reserve, finds she is desperate to get close to him. Unable to resist Ana's quiet beauty, wit, and independent spirit, Grey admits he wants her, too—but on his own terms.

Shocked yet thrilled by Grey's singular erotic tastes, Ana hesitates. For all the trappings of success—his multinational businesses, his vast wealth, his loving family—Grey is a man tormented by demons and consumed by the need to control. When the couple embarks on a daring, passionately physical affair, Ana discovers Christian Grey's secrets and explores her own dark desires.

Erotic, amusing, and deeply moving, the Fifty Shades Trilogy is a tale that will obsess you, possess you, and stay with you forever.

This book is intended for mature audiences.
I'm not sure what possessed me to pick up Fifty Shades of Grey. I thought I might genuinely like it before I started, but all I was left with was one hell of a mindfuck. Whatever it was that brought on this knee jerk purchase seems to have mercifully left me with enough common sense to say I will not be continuing on with this series.
Recently I discovered one of my favorite publishers, Random House, has picked up Fifty Shades of Grey and made this statement:
"An orig­i­nal work, and said to us that James had war­ranted the books were, indeed orig­i­nal. Mes­sitte added she was "aware of the nar­ra­tive that [50 SHADES] started as dif­fer­ently titled piece of fic­tion, but that they were and are two dis­tinctly sep­a­rate pieces of work."
I'm sorry, but I'm going to have to call bull shit on that. Fifty Shades of Grey and Master of the Universe (the original fan fic) are essentially the same thing. The biggest difference being Edward and Bella's name being replaced with Christian and Anastasia respectively. And I would know this because I have both and while I was reading, I would occasionally switch back and forth between the two without difficulty. I'd go through and give you examples myself, but other people have done it already here and here. So if you must read this book, do yourself a solid and find the fan fic online. You even get the second book too!
I know some people claim this has no similarities to Twilight and got dammit, I'm allergic to all the bull shit. Do I really need to point this all out? Because it looks pretty obvious to me. The mannerisms of the characters are exactly the same. They even say similar things the original characters say. The whole "dazzle" line and Edward asking Bella to trust him. Her mother being remarried with the same inability to maneuver her way around a kitchen. Bella is still trying to save Edward from himself due to his troubled past. Edward still stalks and controls Bella, only now he gets to hit her when she gets out of line.

*facepalm* Shall I beat them both? Yes?
I struggled to come up with a proper review for this book and couldn't figure out why I was feeling rather uninspired to write one. And then I figured it out. I was left so disgusted by this book that I wanted to purge the memory of its existence from my mind. With a rusty nail. Every time I thought of the book my brain cells would go on strike, yelling obscenities at me.  Anyway, I thought Bella and Edward's relationship couldn't get anymore fucked up than Twilight. I stand corrected. If I were to describe FSoG in one sentence it would be this: Fifty Shades of Grey is like Twilight on steroids, high on ecstasy, in a dirty little corner. A very dirty corner. With badly written sex. Lots.
Sexsexsexsexsexsexsexsexsexsexsexsexsex….oh……sexsexsexsexsexsexsexsexsex…
Fifty Shades of Grey tells the story of the beautiful (but of course she doesn't know it), naive virgin, Anastasia Steal after she is suckered into interviewing the Greek god, Christian Grey. Of course, sparks fly and for some unknown reason he can't seem to stay away from this incredibly, unremarkable girl.  Ana discovers Christian is into BDSM and desires her as his submissive fuck buddy.
There are a myriad of problems with this novel, many of which ironically can be found in Twilight. Never saw that one coming! Christian/Edward is still a controlling bastard, only now he hides behind his BDSM practices to camouflage his abusive tendencies. However, Ana doesn't see it that way. She thinks of him as a broken person and it's her duty to fix him. Even when he says things like this:
"I want to hurt you. But not beyond anything you couldn't take."
Can you believe she let's him beat her after that? And please don't even bother to tell me that it's just BDSM. No, just fucking no. Ana is genuinely afraid of Christian and is never entirely comfortable with the "punishment" aspect of their relationship. But Christian just manipulates her with sex to continue the relationship. And that's what really gets me. I just have a hard time believing a virgin would somehow become a sex goddess overnight, because that is exactly what happens. When she first is introduced to his kinky lifestyle and tells him she is a virgin he immediately tells her he needs to handle that "situation" before they could continue. What?! Since when is your virginity a "situation?" But, that's not really the kicker. Oh, no, because that is when we are introduced to Ana's two best friends. Everyone say hi to: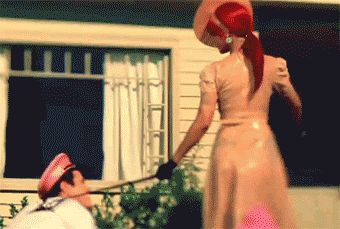 Sexsexsexsexsexsexsexsexsexsexsexsexsex….oh……sexsexsexsexsexsexsexsexsex…
Anna's inner goddess, who always cheers her on when Christian wants sex or wants to punish her. She's also quite annoying, doing back flips at the mention of anything sexual related. Simmer down. Where did she come from exactly? Ana is in her twenties and has never felt the urge to have sex with anyone until Christian comes along with his whips and chains?!
And… Ana's sub-conscious, who hides behind couches when it comes time for her beating. When it comes to Ana having sex with Christian, well, her sub-conscious only has one thing to say,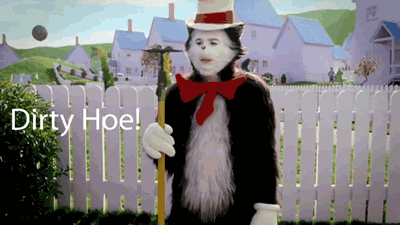 So after the "situation" is handled, Ana has to sign a "contract" agreeing to his sexual demands and also outlining things she won't do. It was pretty pointless considering he still got what he wanted and she never signed the damn thing. He exploits her, stalks her and abuses her! She cries after sex. She is afraid of him being angry! Even when he is angry at something else, she thinks it's her. Her reasoning for allowing him to hit her as his therapy is because she's afraid to lose him. That is not a reason for agreeing to a BDSM lifestyle! In fact, that's not even really "consent!" These quotes just scream domestic abuse to me:
"Please don't be angry with me," I whisper.

"Please don't me," I whisper, pleading.
His brow furrows, his eyes widening. He blinks twice.
"I don't want you to spank me. Not here. Not now. Please don't."
Yeah, he's a real catch, that one. Barf. No, excuse me. That's not right. The barfing came when the little ass-wipe PULLED HER TAMPON OUT AND RAMMED HIMSELF INSIDE OF HER. OMFG. Yes, the caps were totally necessary because that was the most disgusting thing I have ever had the misfortune of reading. That is not sexy, that's foul.
Whenever Ana thinks about leaving him, he comes over to her apartment unannounced pounds into her (literally) and her inner goddess does a fucking happy dance, forgetting her urge to kick his sick ass to the curb. They fight, they breakup. They kiss, they sex up.
Sexsexsexsexsexsexsexsexsexsexsexsexsex….oh……sexsexsexsexsexsexsexsexsex…
Christian: "Do you still want me gone Ana?"
Inner goddess: *growl*
Sub-conscious: …

Dance, puppet. Dance.
The writing is a shitty mess too. I mean, if I had to sit and read Ana saying "Holy, shit!" or "Holy, Fuck!" or "Oh, my!" one more time, I was going to lose it. I wanted to take my red pen and have at this "book" so badly. It was the little things like Ana's roommate saying over and over, "You never cry Ana," and what do we find Ana always doing? Crying. I'm not sure where the hell the plot was. *smacks forehead* How silly of me! Didn't I mention this was a Twilight retelling? Why was I expecting a plot? And another example of poor writing: for these characters to be American, they sounded very British to me. They used phrases that Americans don't use.
And now I'm trying to figure out why this book is so popular. Why do so many women love this book? I get the appeal of the bondage even though it's not my usual cup of tea. Whips? Chains? Sounds exciting!
Sexsexsexsexsexsexsexsexsexsexsexsexsex….oh……sexsexsexsexsexsexsexsexsex…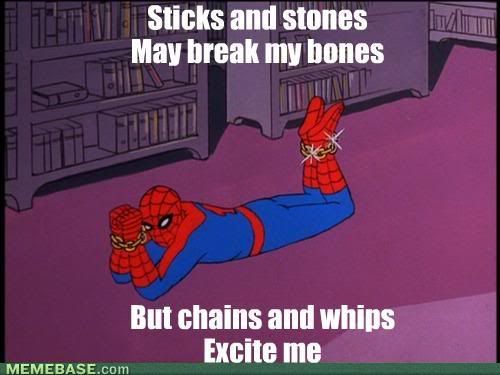 Abuse? Not so much.
FML! Zero stars!
Eh, I'm off to read a good book now and possibly to bleach my brain.